Introducing Afi Yakubu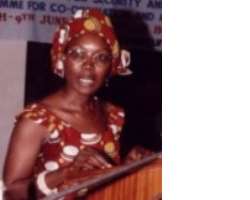 In 2006, the Edberg Foundation in Sweden decided to award its annual Edberg Award to Afi Yakubu for her work with peace and sustainable development issues in Africa in general and Ghana in particular. Afi Yakubu received her award at a ceremony in Sweden. In its decision to award Afi Yakubu the Edberg Award the board of the Edberg Foundation writes:
"The Board of The Edberg Foundation has decided to award Afi Yakubu for her dedicated, competent and persistent work for sustainable development and gender equality on many levels ranging from rural communities to the United Nations, and in particular, for her efforts to promote peace and post-conflict development in West Africa.
Ms Afi Yakubu's profession is in communication and media for development, including production of documentary films as well as radio and television programmes. Mainly she is a peace and development activist, and her daily work is as associate director and leader of Foundation for Security and Development in Africa (FOSDA), a very active NGO in Accra, Ghana. An important focus in her work has been the non-proliferation and abandonment of small arms, that have created so much suffering and destruction in the region."
Bo Landin, Secretary General The Edberg Foundation, underscores the value of the work the award recipient Afi Yakubu has done.
* As a professional filmmaker and media specialist she has realized how important access to information is to achieve necessary development goals. Her work with local communities, as well as political organization from the local to the international level is a model and worth our admiration.
* She has set an example we can only hope people in the political arena will be inspired by to solve the underlying problems facing the people of the region.
* Afi Yakubu has shown that development is possible, that peace and control of the proliferation of small arms is possible, that people's minds can change - but it takes persistent work, step by step, and it takes the kind of determination Afi Yakubu has shown.
Peace Work in Dagbon Community in Ghana
Ms Afi Yakubu and FOSDA (Foundation for Security and Development in Africa ) was voted Dagbon Personality of the year 2004. Ms Yakubu and FOSDA through its objective of promoting security and development, policy-oriented research, and training in Africa has organized a number of activities in Dagbon and Yendi in particular aimed at bringing peace to an embattled society in post March 2002 era.
Through its campaign against proliferation of small arms in Africa to organization of a bicycle race in Yendi and a route march of over 500 school children against armed conflict, FOSDA has consistently reminded the people of Yendi and Dagbon about the dangers of armed conflict and the need for peace as a precursor to sustainable development.
FOSDA website - www.fosda.net
Source:
EDBERG Award
http://www.edbergstiftelsen.se/index.asp?id=1433
Dagbon Peace Work
http://www.dagbon.net/fame.php