KOGI IS READY TO TAKE-OFF, SAYS GOV WADA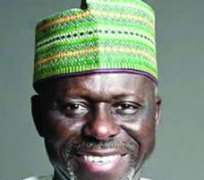 •Wada
Governor Idris Wada, a trained pilot, has given indication to serve as catalyst for the true take off of the state on all spheres. He spoke at a chance meeting with some journalists in Lagos on his way to Ibese, Ogun State, for the commissioning of Dangote Cement plant
CHIDI OBINECHE presents the excerpts:
Mission to Lagos
I am passing through to Ibese for the commissioning of a new Dangote Cement plant. As you know Obajana is a premier industry we have in Kogi State, the largest cement complex in Africa owned by the Dangote group. We recognised the impact of Dangote group on the economy. So, on my first visit to Lagos, after assuming office on the 27th of January, 2012 consequent upon the Supreme Court judgement, which moved forward our coming into government, I thought it appropriate to meet with you, to talk to you about my vision, the programme we intend to do in Kogi State. I am probably one of the most litigated governors in Nigeria today. Of course, you are familiar with my name but I have remained focused and determined to improve the lives of the people. You are professionals (media men). I come from a very professional background and you know the state of our economy.
Inspiration into politics
My inspiration for coming into the governorship race was motivated by President Goodluck Jonathan, who came from humble background like myself and when by the grace of God he became the president, he announced his transformation agenda. Having travelled far and wide and all over the world as a professional pilot, I feel that Nigeria is ready for transformation and to champion this course qualitative leadership is needed. However, I believe that President Jonathan is providing that to our country, and I need to play my part to help in the transformation process. My part, Kogi State, is a component of Nigeria.
Meeting with the media
To me, the media play a significant role in governance, particularly good governance. No matter what you do, if it is not conveyed properly to the people, it can either be mispresented; or misunderstood but a situation whereby the media is carried along in the activities of government, the people will be properly informed and the efforts of the government would be appreciated. I am one of the people, who recognise the importance of media in governance.
Dearth of professionals in Politics
In our country, many professionals shy away from politics. We think it is for them. Every human being is a political animal. Anybody, who is being governed, whose life is impacted by the activities of those in government is a politician, whether you are playing active politics or not.
When you sit down on a table, criticizing the politics of government, indirectly you are playing politics and by so doing, you have become a politician. Many good people have run away from politics in Nigeria, because of mudslinging, backbiting, backstabbing, lies, innuendoes, manipulation, intrigues. This has driven good people away. Despite the fact that I have had my own share, I remain focused and determined because, I have come with a very clear conscience, solid background both in the private and public sectors service and I will do my best to contribute to the transformation of my country. That is what motivated me to run for the office of governor of Kogi State. It was not an easy race. It was very complex with all kinds of political interests, but I remain focused and that is precisely the benefit of my staying here as a pilot with 35 years experience.
What are the challenges?
Of course, in flying, there are challenges. We have turbulence, cloud, rain, storm, malfunctional equipment and instruments that have to be managed. These prepared me for the challenges ahead. I took some of the criticisms, challenges, backbiting and all that, as part of the things you face in life, and, I, by the grace of God, I was able to overcome them by being focussed. I was neither replying, nor answering various lies being promoted around me, believing that everyone will have his day. I will have a chance, at a time that is appropriate not on an agenda dictated by my detractors.
Mission, as Kogi State governor
My mission in Kogi State is to transform the lives of our people and as well as improving the state. We have four years. It has started counting, right from 27th January when I was sworn-in as the Executive Governor of the state. The clock is ticking. We have a very careful programme of transformation. We constituted a tink tank last week (first week of February), which has produced the blueprint for the transformation agenda of my administration in Kogi State. This blueprint is a clear programme of action on the various sectors of Kogi economy. We are focussing on qualitative education, moral education, vocational education and mechanised agriculture at the small and medium scale level with appropriate technology that our people will be able to understand, manage and maintain.
Improving Agriculture
We are going to invest heavily in the planting of rice, sugarcane, corn, and all kinds of crops where we have strategic advantage. Because Kogi soil is the best for such crops. We are going to focus on those and be one of the leading states in Agricultural sector in Nigeria. We have a lot of solid minerals, we are going to exploit them with appropriate technology, and we are going to ensure that we create employment for our young men and women who are becoming problem to the Society.
On tourism
Tourism and security is another area that this administration will focus on. Without security, there is no Tourism. You all know, Lokoja was the first political capital of Nigeria. Nigeria was administered from Lokoja by Fredrick Lord Lugard and we want to bring out all its historical artifacts, bring them to world class standard, where people can come and visit and the environment will be pleasant. We want to turn manufacturing areas for tourists Haven. Those of you that are working in the hustling and bustling Lagos will come and see us and relax for few days. We intend to create a pleasant environment. We will attract foreign and domestic direct investment in Kogi state. We have many friends in the industry that believe in good leadership.
Expected leadership
I intend to provide exemplary leadership. Leadership by example. Leadership that is based on discipline, accountability, transparency. We will focus on equity, justice and fairness to all our people. We have issues of tribe and religion. We will try and put Kogi first. The interest of Kogi rises above the interest of any individual. We will like to impart in our people, the spirit of our people asking what they can do for Kogi State, not what the Kogi State can do for them. We believe that with prudent management of available resources coupled with exemplary leadership style, the state will move to the next level. When a leader is seen to be fair, when things are seen happening at appropriate not inflated cost, people will join hands with the government. Precisely, that is our mission, that it what we intend to do.
On infrastructure
We are going to focus on rural development, and as well open up roads. We have a lot of Rivers we will ensure, regional water supply, improve on our dams and improve the lives of our people. We are going to focus on public schools. We have one premier university and a good polytechnic. One of the first things, I did was to pay a surprise visit to the Kogi State University. I wanted to see things, as they are, without any preparation to receive the governor. Early in the morning I took off from Lokoja. We notified the Vice-Chancellor, only when we were half way. I was able to see things, the way, they are, I was impressed. Also, a similar visit was paid to the state owned Polytechnic. I was highly impressed, especially with the initiative of the Rector and what he has been able to achieve with the limited resources.
During the visit, I promised that I am going to improve on the facilities, so that the institution will thrive academically.
What we are planning to do in the state is to stop the institution running after accreditation but pursuing academic excellence. We want to be centre of excellence in various aspect of our lives. Kogi is ready to take off. I have garnered experience of flying over the years. we have done our checklist.
On Information Technology
We have a programme that within twelve months, all our key officers will be computer literate. We are going to computerize a lot of our activities, in order to have proper data.
Reconciliation
The efforts are concrete. We have a 17-man reconciliatory committee which I constituted immediately after the party's primary in September 2012, in place. I have visited a lot of them. I have met Isah Echocho severally. He is not receptive to my approach.
There was a day, we came out of Abuja High Court where a subterranean case against me came up, which of course we heard through our own information system, we appeared in Court to ask to be joined in that case. After the session, we met outside, and while attempting to have a handshake with him, I was prevented by one of his boys, and he did not say anything. He could have told the man to get off. Severally like that.
We had a meeting at the Presidency. President Goodluck Jonathan invited all the aggrieved and non aggrieved members of the party in the state with the aim of reconciling us. I went round to greet the people in attendance but Isah turned down my handshake. But the President later reconciled us, and we embraced each other. I thought that would mark the end of the animosity but I was proved wrong. Other aggrieved members of the party have come on board and they have teamed up with our administration.
I have done a lot practically to unite people. Alhaji Audu Abubakar, my friend of over 30 years standing, invited me to his daughter's wedding and I attended as the father of the state. Audu is a highly principled man, likewise myself. Also, the candidate of the Justice Party has visited me.
Improving revenue base
My plan is industrialization. I am going to establish cottage Industry, as well as boost food production by investing in the Agricultural sector of the economy. Also, the state will partner with the Private sector.