Irene Is Most Talented Beauty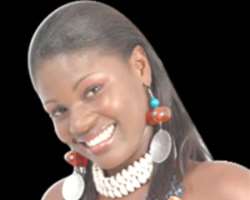 When 21-year-old Miss Ghana 2006 Irene Dwomoh went to Sanya, China, to participate in this year's Miss World, she knew it was going to be a lifetime experience. Little did she know that she was going to make history as the first Ghanaian to be declared the most talented contestant.
Back in town after making her country proud in far way China, Irene shared her experience with Showbiz, "I couldn't believe it. The applause was deafening, an indication that people really appreciated what I did," she said.
Guess what Irene did for her talent hunt to win her the enviable title? She choreographed a performance that involved various dances and a little comedy. The song and dance that did the trick for her was the late Terry Bonchaka's Zoozi.
To make her act complete, Irene sported an Afro hairdo and an old school outfit made from an ATL fabric. Obviously, she did not only stun the judges but the thousands who had trooped to Sanya to witness the event.
Irene said she is very proud of her award because she has set the pace for others to follow.
She said that in the history of the Miss World, no dancer has won the talent special prize. Last year, Miss Ghana 2005 Lamisi Mbilla also made Ghana proud by winning the special Beauty with a Purpose prize at Miss World.
Winning the talent award gained Irene an automatic entry into the semi-final group of 16 which included Miss Angola, Austria, China PR, Dominican Republic, Ecuador, Grenada, Hong Kong China, Jamaica, Malaysia, Mexico, Puerto Rico, Sweden, Trinidad & Tobago, United States and Venezuela.
In the grand final, the China PR delegate Zhang Zilin, won the highly coveted title of Miss World 2007 in a star-studded event at the Beauty Crown Theatre in Sanya, Hainan Province, China.
Her smile shone out to a world-wide TV audience of over two billion as she was crowned by last year's Miss World Tatana Kucharova.
Micaela Patricia Reis from Angola was the first runner-up while Carolina Moran Gordillo of Mexico was the second runner-up. The two other finalists were Miss Trinidad & Tobago and Miss Sweden.
An impressive cast of international stars and music artistes ensured that the 57th Miss World final was a dazzling event.
A special TV spectacular show was hosted by top Chinese TV presenter Angela Chow who was presenting Miss World for the fifth year in succession, alongside co-host Fernando Allende, who is one of Latin America's biggest stars and was making his Miss World debut.
The show told the story of the contestants' stay in the tropical paradise of Sanya, with many clips of their activities as well as their exciting trip to Beijing where they recorded the Olympic Torch Relay Anthem.
It also featured a stunning performance by international pop star Duncan James, formerly with the Boy Band Blue, singing All I Care About Is Love from the hit musical Chicago and spectacular dancing and acrobatics by some of China's most talented dance troupes.
One of the highlights of the event was when Mandla Mandela, grandson of Nelson Mandela, introduced his grandfather's televised message for World AIDS Day.
That was followed by a magical moment when children from Mandela's hometown in South Africa joined with children from a local Hainan school and all 106 contestants to sing the World AIDS Day song.
By Jayne Buckman-Owoo