Representatives Reject Calls For Sovereign National Conference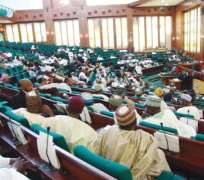 Abuja, February 17, (THEWILL) - The House of Representatives Thursday rejected the calls for the convocation of a Sovereign National Conference (SNC) saying the exercise is meant for countries coming out of war.
Chairman of the House committee on media and public affairs, Hon. Zakari Mohammed who made the declaration at a press briefing argued that Nigeria is not at war and being a full-fledged democracy cannot afford to convene a sovereign national conference.
According to the House spokesman, "Talking about sovereign national conference now looks like going back to the days of tribal champions. It is like going backwards. For us, it is not just because we are sitting here (National Assembly), but we are moving forward the fragile democracy.
"A sovereign conference is suitable for countries that are coming out of war and not Nigeria. We believe that rather than solving the problems, the sovereign national conference will end up creating more problems for us," he insisted.
He said convening any conference at this time the country's democracy is on course with the National Assembly functioning would amount to taking Nigeria many years backward and appealed to the advocates to trust the National Assembly to do those things they want the SNC to address.
"They should believe in the National Assembly. They are talking about the constitution but there is no way the constitution will be perfect. But since we are in the process of reviewing and amending the constitution, let them take advantage of the exercise and present their grievances and proposals to the National Assembly, so that it could be taken care of."
Speaking against the proposal further, Mohammed asked where funds for the conference would be sourced saying, the constitution does not recognise it and the National Assembly cannot appropriate funds for such a project.
He also queried the criteria that would be used in selecting people to the conference and who will chair it adding, that the exercise is simply not feasible.
"Who will fund the conference? Where will they get money to host it and who will moderate it? These are questions they should provide answers to. I believe we need to be cautious with the manner we are pursuing this sovereign conference agenda," he warned.