SYLVA IS A PARTY MAN -DICKSON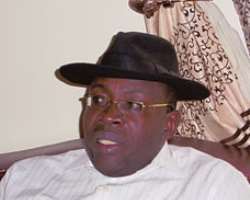 Recently, few days to the official flag-off of the governorship campaign of the Peoples Democratic Party (PDP) candidate in the February election, Henry Seriake Dickson, there was a twin-dynamite explosion in Bayelsa State. One was targeted at one of the oldest bridges in Bayelsa, the Etegwe Bridge at Tombia junction, the other at a car close to the Bayelsa Government House.
The state government in its reaction pointed accusing fingers at Dickson and his backers noting that the explosions were politically motivated to create an atmosphere of insecurity to pave the way for the deployment of troops in the state. But in an exclusive interview, Dickson disclosed that Bayelsans are aware that there is a dynamite throwing squad funded by the state government to intimidate and terrorize Bayelsans. In this interview, he speaks on a wide range of issues.
Excerpts…
What is your take on the recent explosions that rocked Bayelsa state?
Incidents of bomb blast have always been a source of worry not to only me but all Bayelsans and friends of Bayelsans including those who believe in playing politics by the rules. We have been worried about the state of insecurity in Bayelsa which escalated astronomically with the coming into government of the out-going administration in 2007. Prior to that time, we only had youth agitation which was also in other parts of the Niger Delta by freedom fighters, we never had incidents of politically motivated bombings and dynamites sponsored by the government.
Between 2007 and now, Bayelsans are used to this style of politics of building a state of insecurity to call a dog a bad name. There are many people like Peremobowei Ebebi, Rufus Abadi and several others who are their victims of terror. People in Bayelsa know the people throwing dynamites. They know that there is a dynamite throwing squad. They unleash them whenever the political fight does not go their way to create a state of instability. In fact, they use terror and violence which they conveniently deploy as a political tool to create instability to strengthen their hands in the political game whenever they are losing out and get back at political opponents. Bayelsans are aware of all this and it is unfortunate and condemnable.
As a person, everybody knows that I have not been associated with politics of violence. I fight hard but fair using due process and the law all the time as I am doing now. I have never at any time resorted to violence or cultism. We in Bayelsa know where it is coming from. It is instructive that days to my formal declaration last year, five people were killed in the prime of their lives. It was meant to send a message of insecurity and dissuade people from attending my rally.
It was the same tactics they applied to discourage people from the scheduled campaign flag off. So, we just have a bunch of people in government who have no consideration for the lives of people. To them, it is either it goes their way or they destroy everything. They attack the judiciary with reckless abandon, they have no respect for judicial process, and all the judgments that have gone against them have been flagrantly disobeyed and refused to be enforced. They are like that, a bunch of lawless people and terrorists who somehow stumbled into power. However, unknown to them, developments like this do not scare people like me, do not scare Bayelsans, rather it strengthens our resolve to get rid of them so that we can remold and build the image of our state that is terribly shattered.
I can't imagine a government that takes pride that the national media is reporting that they are throwing bombs. Or they think people don't know they are the ones throwing the bombs and dynamites, using people with no reputation to blackmail people on the pages of newspaper. The average Bayelsan wants to get rid of them for the same thing they are doing. Yes, I join in condemning this act of terror, but I want to tell Bayelsans not to allow themselves to be intimidated by acts of terror and political violence.
We are used to their antics and incidence of this should strengthen our resolve to get rid of them and install a government that respects the lives, rights and property of people, a government that would work to remold the image of our people instead of a government that does not care whether it is known for bomb or dynamite throwing. Recently, people are increasingly getting worried about how the integrity of institutions especially the judiciary is being attacked over the power struggle in Bayelsa.
First of all, it shows clearly that the Sylva's camp in their desperation to hold on to power which they have proved terribly unworthy of would not stop at destroying anybody or institutions from the Presidency to the judiciary and INEC. For me and my friends, even the President is blackmailed every day. This was a man in 2007 that did not even satisfy the basic requirement of the party guideline and constitution. And yet then, every stakeholder played by the rules and out of respect for the then Vice-President and for the interest of the state, he was allowed as undeserving as he was.
This was a young man that was more known for his vanity and disrespect for due process than for anything else. We allowed him, we made him Governor and you can see after five years, what he has made of it. Now, because it seems he is losing out, you can see that he does not have the finesse, the dignity and statesmanship to say this is the state I have ruled for five years. I have tried my best and I would support whoever comes. Instead, they want to destroy everything and everybody.
Yes, he was the first to go to Court to procure order. The same day, the case was filed, it was assigned and yet I never attacked the integrity of Justice Gabriel Kolawole. I have profound respect for him even though I disagreed with him. And I challenged it through due process; I didn't write a petition or talk to the media. Even as PDP and I were dissatisfied with the Judge's pronouncement, we challenged it through due process and went to the Court of Appeal. Now, my right as a citizen of this country was flagrantly disregarded and infringed upon by INEC after submission of my name to INEC and the acceptance by the Commission. INEC, unilaterally without any court order authorizing it to do so, purported to have removed my name from the final list.
That was shocking, clearly unlawful as it is not supported by the laws of this country and rules of INEC. And again, I had to resort to due process, file an action and the following day, a Judge heard it and gave an order and the Sylva charlatans in government instead to challenge it using due process started attacking the integrity of the judiciary. They are the ones boasting about the Supreme Court. We are aware of everything and all that is going on but I don't talk about it.
All I have to do is I get my lawyers for them to do what they have to do. I follow due process to address my grievances, instead of pulling down judges and institutions. It is Sylva's antics. He does not know that Bayelsans are aware that a bazaar is going on in Abuja. November allocation was almost N34 billion, December allocation was N30 billion and yet not one tipper of sand has been dropped on the soil of Bayelsa. There is a major bazaar going on. Bayelsans are aware and Sylva does not know they are angry with him. So, when he finishes the bazaar, Bayelsans are waiting for him. I know that he himself knows that there is a day of reckoning. This accounts for their desperation and attempts to destroy everybody and institution, this accounts for their resort to terror and dynamite throwing, which in case is of no benefit because Bayelsans have made up their minds to throw them out.
Would you probe the Sylva administration if elected?
My concern now is to win the general elections. But I can assure you that there are difficult decisions I am going to take in the interest and development of the state and I would not shy away from that. That is all I can say now.
Bayelsans that are not partisan politicians are of the view that the political elites in the ruling PDP should seek ways of reconciliation. How far has your group gone on the consensus building?
We are building a new PDP and getting ready to build a new Bayelsa and indeed all hands must be on deck. Mr Timi Alaibe has come to resume fully as the Chairman of the campaign caucus. He is an elder, an opinion leader with a large followership. We would continue to talk to opinion leaders in the state for support. Let me seize the opportunity to thank him for his kind endorsement and support. We are also talking to other stakeholders. I don't want to talk about it too much because I have a quiet and effective way of operating. I can assure you that all is well. Discussions and consensus building have gone very far.
Today, I do not know of any member of the House of Assembly, and I am talking of PDP members who are against the PDP. I believe that all of them are Honourables, law abiding, party faithful who have respect for constituted authority and the party on which platform they are elected. Nigerians and Bayelsans would be very shocked very soon when the PDP steps out in grand style in all full compliments and array and supporters behind my candidature. Building consensus is no problem and we have gone very far. I have nothing against them and I don't know of any who has anything against me or my candidature.
I don't hold anything against them for their support for Sylva who also supported them during their elections. Rather, I like that because that is loyalty. I respect that because I am also a loyal person. I value loyalty a lot. I don't begrudge them. The party primaries process has gone and I expect all PDP stakeholders to rally behind me. When you see people like Timi Alaibe who has made far more sacrifices than these people and sponsored most of these people in 2007 coming to support, then you should know PDP has gone far in consensus building.
What of the former Governor, Sylva?
For Sylva, let me thank him for being a good party man by not leaving the party. As he is staying in the party, we expect that he would play his role as a good party man in the governorship elections. He is entitled to ventilate his grievances as a politician but I believe that we have come to a stage that the issue of candidature of the party has been settled. And going for the general elections, I expect him to throw his support behind my candidature so that we can move on and build our state together, even though we have disagreed for sometime in the process leading to the nominations.
Politics is reconciliation. We are open to reconciliation. We are talking to several people. I don't have any enemies. Sylva is not my enemy but he is someone I disagree with seriously in terms of his polices, the direction he was taking the state and I believe he does not deserve a second term. It stops at that. He is a party man and as a former governor, even when I am elected by the grace of God and the support of the people he would be entitled to our respect and all the things former governors are entitled to. But the fact is that he has not done well.
He is the major cause of the problems and situations we have now. It wouldn't have been necessary for anybody to contest against him, if he had performed well, build consensus, respect authorities and carry everybody along. But I am not going to discriminate against anybody, and by the way, there is no die-hard Sylva supporter I cannot work with because I am interested in moving the state forward. Anybody that would help us to move the state forward would be welcomed on board.
I have no time for vengeance; I have a large heart and I am broad-minded. I can argue and disagree with anybody. They are wrong, they took this state backwards, but there is nothing personal, only political differences. If anybody takes it personal, I don't know.