WILD CARD FOR LAST THREE ON NIGERIAN IDOL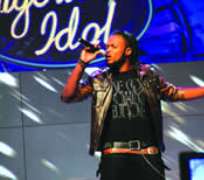 Fans of the music reality show, Nigerian Idol last weekend had the fun of their lives as they were presented with a wild card show that determined the last set of three finalists that made it to the finals.
Nine contestants were handpicked by the judges from the top 30 contestants to take another chance at the Nigerian Idol finals.
'I have never had this much fun in Nigerian Idol, international choreographer and judge, Jeffrey Daniel exclaimed excitedly. 'It's so good; it appears as if I am watching the top nine stages of the show and not the wildcard. Really, Nigeria has an incredible amount of talent and Nigerian Idol appears to have collected the cream of them all.'
The electrifying show kicked off with a performance by Tega, who reprised her role as a woman afraid to lose her man as she sang Mary J Blige's 'Be without You'. Ebbi Paul Otti, who once again showed his vocal dexterity with a brilliant rendition of KC &Jojo's 'All my Life' followed her. Charming Byno upped his last performance with an irresistible mix of vocals and drama as he sang Bruno Mars' hit 'The Way You Are'. After him, G Circuit gave the performance of his life with an outstanding rendition of Usher's 'There Goes My Baby'.
The booming Joe Blue was next and he outdid his last performance with a superbly mastered presentation of Michael Bolton's 'How am I Supposed to Live without You'.  For Phunky Sings, who gave a flawless rendition of Vanessa Williams 'Save the Best for Last', Jeffrey renamed her 'Phunky Smooth'.
Again, it was duet time as Yinka Davies' favourite, Stephen Onochie performed Peabo Bryson's 'Celebrate my Love' with the star judge.
Sophyn also got a duet with Davies as she sang Diana Ross's 'Endless Love'. The applause was deafening as the audience acknowledged the spectacular music coming from the Idol stage. Sly 1 ended the performances with an R&B tinged version of Jimmy Cliff's 'I Can See Clearly'.
The wild card allows three winners into the Nigerian Idol finals. The contestant with the highest number of votes will be the first to get into the final stages of the competition, while the judges will select two other contestants. 'This season, there will be a Top 12 finalists on the show,' Project Manager, Tiwa Medubi pointed out. 'The voting public gets to choose one, while the judges will be picking two more.'
The real contest begins on February 12, and the winner of the show goes home with a brand new SUV including a cash prize of $100, 000. Other top ten finalists will also win mouth-watering prizes. The winner of Season 2 will be announced at a grand gala in April.