PDP PRIMARIES: IMOKE AND HIS GOLDEN VOTES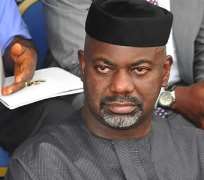 In his works, Roy Romer on Amazon, Roy Romer, an American politician once said, 'I do think there is something to be said for those who have significant experience at state level and have run campaigns or have been deeply involved in grass roots political campaigns and who have actual hands-on experience.'
In sharing in Romer's sentiments, you will agree that something is indeed to be said of Cross River State Governor, Senator Liyel Imoke, who is now the Peoples Democratic Party (PDP) flag bearer for the April, 2012 gubernatorial election in Cross River State, at least for his inimitable style of politics.
It was no mean feat. The voyage was tortuous. Imoke raked in whooping 737 votes to crush his closest rival, Ambassador Soni Abang, who got three shocking votes.
Independent National Electoral Commission (INEC) Commissioner for the State, Barr. Mike Igini described the process that led to Imoke's emergence as transparent and 'should be used as a rebranding point for other States to emulate.'
Abang stayed away at U.J Esuene Sports Stadium, venue of the primaries and could not have voted for himself. Watchers said one of the votes may have come from Hon. Christopher Eta, a member of the House of Representatives, the next from Barr Ogar Ndoma Egodo, former Chairman of Ikom Local Government Area while a sympathizer from Boki may have cast the last one. Abang got two votes from Boki and one from Ikom.
Eta is Abang's ardent supporter and had reportedly sworn to do all that is necessary to ensure his buddy's victory at the primaries.
But he and his co-conspirators were overwhelmed. Imoke possesses uncommon traits, which have distinguished him from other aspirants. Chief Patrick Okomiso, who also indicated interest to contest the gubernatorial election, vanished at both the campaign fields and at the venue of the primaries.
Weeks before the exercise, Okomiso posters had littered parts of Calabar, but he was not as visible as they when the day of reckoning came. Neither his face nor any of the posters was sighted in major towns of the State, not to talk of the rural communities. He appeared to be keener, though, than Abang, whose parsimony seems to be a factor for his poor outing. Abang never spent a dime for putting up posters. No campaign office. No campaign group.
True to the words of Minister of Culture and National Orientation, Chief Edem Duke, it would be suicidal to give the party ticket to a man (Abang) who has failed to expressed himself properly.
And rather than heed the words of the wise who had asked Abang to back out of the race for Imoke, Abang defied all words of caution.
In the words of former State Security Adviser to the Governor, Bassey Okim, "To some of us, it was an embarrassment that Chief Sonny Abang who is more like political son to Senator Imoke would get up in the unholy hours of an election year to say that he was going to ask for the governorship of the State. We had said that such an attitude is ungodly and we still say that it is ungodly and immoral.
"Chief Abang was given all the advantages by Senator Liyel Imoke. He brought him up at the dying days of his reign as chairman of Boki local government area, and made him chairman of the party, kept him there and helped him to become an ambassador. He gave him all the advantages in his political life. So we felt it was wrong to use those advantages against the same man who made you."
Comments such as this qualify Abang as treacherous, which many said he is known for. He is the opposite of Imoke. Imoke is a grassroots man that his victory did not come as a surprise. He had bodies that campaigned for him, viz a viz Legacy Group, Destiny Group, Tinkoriko Consensus For Imoke, Assurance Group, etc, plus numerous other ones raised along the lines of profession, political office holders, wives of politicians, past political office holders, Local Government legislators, market women and friends.
Not just that. The groups and their campaigns had messages while the campaigners had faces, unlike the faceless persons that were double-speaking for their failed aspirants.
Yet, there is a lesson to learn in failing. "Losing is a learning experience. It teaches you humility. It teaches you to work harder. It's also a powerful motivator," according to Yogi B. This great writer of yester years probably had Abang in mind when he was putting down these lines. He knew that failing is not an eternal occurrence; it begets more hard work, and only the humble understands it so.
Another reason for Imoke's triumph at the primaries is that the Governor is a politician who understands the game, and can be trusted with apparatus of the State. During the just concluded fuel subsidy debacle in the country, fueled by the Nigeria Labour Congress (NLC), President Goodluck Jonathan named the Governor as a team member for negotiating with the labour. It was due to the astuteness he possesses in conflict management. With Imoke, things hardly get out of hand.
Talking about trust, Imoke's administration is known for financial discipline. As contained in this year's budget proposals to the State House of Assembly, the Governor said his Government had in 2011 targeted N15.064 billion as internally generated revenues, an amount he had used to augment few other sources of financing, for the numerous projects now visible in all parts of the State.
Today, coupled with prudent debt and donor support management, nobody nor agency of Government is raising eyebrow as to how funds are utilized in the Administration.
Self-conviction also propelled the Governor to go for the race in line with the words of Patricia Ireland. "Some campaigns are not worth waging if you can't win; others have to be fought on grounds of principle regardless of the chances for success."
Those who saw good judgment in the interest shown by the Governor to seek re-election averred that he deserved another chance in view of his glaring achievements in the areas of road construction and reconstruction, health, education, security, sports, tourism, electrification, environment and human development to mention a few.
Whereas, die-hard critics, as they are often referred, argued against his ambition from a bigoted point of view. To them, it is simply another man's turn, whether it serves the State any good or not.
Imoke has always believed that politics, to him, is neither a do or die affair, nor a contest that calls for desperation.
In one of his postings on facebook, the Governor had urged those favourably disposed to his administration to vote for him in this year's poll, while those who feel otherwise were free to vote for any other candidate of their choice, and he expressed no bad feeling about it.
His postings usually attract comments, positive and negative. One of the commentators on one of his postings gave away the administration as lacking initiative. He posited that none of the policies and programmes being implemented by the administration is Imoke's concept. He had linked them to the past government of the State.
He failed to recall that sports has never been a policy of government before now, but this government initiated it and is modifying it to encapsulate the Obudu Mountain Race, which has always been there, but for the fun of it. Foreign athletes are now part of the race, and the exercise is raking in revenue for the State, with the involvement of sponsors. And with the commitment being shown, Cross River State has indicated interest to host the National Sports Festival in 2014.
In a recent interview with the State Commissioner for Youth and Sports, Chief Raymond Obeten, the Commissioner noted few of the modifications being carried out in the sector to include selection of schools across the three senatorial districts of the State, to be known as Centres of Sporting Excellence. In them, sporting activities will be upgraded in Secondary Schools and among students.
Another sector where this Administration is being castigated, perhaps due to the Governor's hushed disposition in publicizing his accomplishments, is housing. Projects for the completion of Staff Housing Estates, particularly the one at Akpabuyo will soon be completed, an indication that this endeavour is closely linked to manpower development. A worker, who is given so much, will be enthusiastic to put in his or best and contribute to the development of the State.
That is the hallmark of this administration. And no wonder the people have said 'thank you' to Imoke through these golden votes. All in the State will now be glad to witness the fulfillment of Thomas C. Haliburton's axiom. "The happiness of every country depends upon the character of its people, rather than the form of its government."
Written by Otei Oham

Disclaimer:

"The views/contents expressed in this article are the sole responsibility of

thewillnigeria.com

and do not necessarily reflect those of The Nigerian Voice. The Nigerian Voice will not be responsible or liable for any inaccurate or incorrect statements contained in this article."
Articles by thewillnigeria.com