What to wear to the office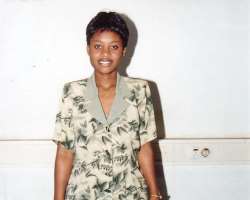 Alexandra Shulman, editor of Vogue, on every career woman's dilemma - how to keep your fashion credentials and still dress appropriately at work:
The accessory of this season is a Balenciaga hat, the Bombe Feutre, costing £890 and shaped like a riding hat crossed with a bowler. If you have looked at any fashion magazines recently you will have seen this hat, which bears a certain resemblance to a pudding basin, teamed with any number of cocoon coats and voluminous mini skirts.
Last February on the Balenciaga catwalk it accessorised all the outfits in what was universally regarded as a stellar show. This appearance has been hugely influential in promoting a large amount of headwear in the shops this autumn. I very much doubt, however, that you will be seeing that hat, or anything close to it, on any of the successful career women that people our newspapers and television screens this winter.
Condoleezza Rice, Margaret Beckett, Angela Merkel, Cherie Blair, Nicola Horlick will, I expect pass on this particular fashion accessory. But nor are you likely to see them in skinny black trousers, vertiginous platform heels, capes or mini skirts, to list just a few of this season's main fashion trends.
Rarely, if ever, has the gap between what is fashionable and what women who have to do business in the real world wear, been greater.
Powerful and successful women working in all areas of business have never been particularly concerned with the fashions of the day. Bankers, lawyers, politicians and journalists are rarely clothes horses. Indeed, for a long time their main aim in getting dressed in the morning has been to adopt camouflage, so not to stand out in the business world.
Traditionally, women around the boardroom table are likely to be dressed in as close an approximation of the clothes their male counterparts would wear as they can get, without being in drag.
Shapeless jackets, suits, cotton shirts, black trousers, black shoes and neutral tights have been the uniform of choice for a long time. And for many working women the only place you are likely to find any kind of colour or character is in headscarves and handbags.
The stereotypical power dressing of the Eighties was the closest fashion ever got to being in keeping with business dress - a moment when shoulder pads and suits were predominant.
It didn't last long. After a few years the Grunge movement took over and if you wanted to be fashionable you were in trainers and skinny bias-cut slip dresses, you couldn't wear a bra under.
Recently, I have spent a lot of time sitting in fashion shows. My fellow audience divides between people like myself - the large majority - who wear what are regarded as boring clothes; a pencil skirt, a sweater, kitten-heeled shoes and a warm coat, and those more obvious fashion followers who wear something rather more on-trend; parka coats with a fur tail coming off the back, hats that tower into the distance, thigh length boots and trousers as tight as leggings.
In the context of the fashion weeks they look normal, or at least appropriate but place any one of these outfits in the House Of Commons, the Old Bailey or even fronting the 6 o'clock news and the security guards would probably be called.
I write there of extremes but the difficulty of looking both fashionable and professional remains. As working women our priority is to get the job done and our clothes are likely to be largely influenced by how that will best be achieved.
But women in the workplace are now so common that it should be possible to be a bit more confident than many are, and revel in the pleasure of dressing and looking feminine instead of trying to hide any sexuality.
Times are changing, though, and there is a move towards wider experimentation and more personality in dress. There is the march of progress but in many industries it is still a slow march.
Take Condoleezza Rice. Condi is an excellent example of a high-powered female politician who has to look acceptable to everybody. Nominated by American Vanity Fair as one of the year's best-dressed women she likes tightly tailored suits, high collars, long sleeves and low heels.
She is also a dab hand with the lipstick. Not only does she have to fly halfway across the world into meetings with rooms full of men, many not that keen to see her, but she has to operate in a number of different cultures. Let's pause a moment here to consider what a difficult packing job she must have.
Last week I noticed that she addressed the White House press corps in a chic soft jacket with a huge white zipper down the front and racing stripes down the side. She looked terrific. Her clothes are not fashionable but she has created a definite style for herself.
Alternatively, Segolene Royal, the Socialist contender for the French Presidency, has a very good line in pretty dresses and feminine blouses. She favours separates over suits and wears her hair long and loose. For those of us who don't operate at such a high level, the daily question of what to wear to work still causes problems.
Luckily, despite the catwalk paying zilch attention to this question the amount of stores providing clothes for women in the professional workplace increases all the time and at all prices spectrum. They offer a watered down and therefore more accessible version of the trends. All you have to do is work out which ones suit you.
This season that could be a cropped jacket, anything in grey, slim platform heels, opaque tights (thank goodness), a knit dress, patent leather accessories, either slim cut or wide trousers and a well-cut hooded coat that nods in the direction of a parka, possibly minus foxtail.
What this does not include are jackets that cover your bottom or are the size of a bolero, leggings, baby doll dresses, 3in wedge heels or patent skirts. You can look both businesslike and trendy with a patent bag or belt but you will look like something off the street in a patent skirt.
Soft suede
Suede is in general a better fabric than leather because it looks efficient and luxurious without having that slight Night Porter or biker-boy edge. It has a softness that is appealing but it also hints of success.
Colour is another good way of asserting some femininity in your wardrobe but it is not without its drawbacks. Anything too strident is a problem and anything too soft looks drippy.
Icy, stormy blues, dusty lavenders, rosy greys are all safe bets and can be injected into the more standard navy, beige, and black of the working uniform.
Zara, Reiss, Jaeger, Principles, are all good High Street stores at keeping an eye on the trends but equally importantly are easy to find.
If you are short on time, proximity is one of the great determinating factors. I often buy something because it's a half hour grab-and-run from my office and back.
This season you'll find the looser cocoon-shaped coat but in a slightly longer length and slightly less voluminous than catwalk versions which can be worn with short skirts or, happily, with knee length straight ones.
You will also find trench coats with a bit of contemporary detailing such as large buttons, and soft tweeds that mould to the body rather than stand out stiffly like the runway looks.
A few months back I was invited to a dinner at the Foreign Office. The other women there were all politicians, political wives or serious career professionals. It was one of the hottest days of the summer and we were all melting in our formal attire. All the women were keen to talk clothes to me despite the fact that what they were wearing didn't necessarily indicate a huge interest in this area.
I'm not recommending the Bombe Feutre to them, but perhaps a higher heel, a shorter skirt and definitely to ditch the sparkly shawl.
But you know what, they all had great manicures.