When did you last make love?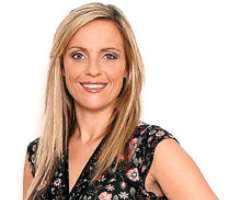 Demelza Hussey had sex last Saturday
British women have worse sex lives than most of their international counterparts, with only a third making love once a week. But can this really be true? FEMAIL spoke to a random selection of single women and wives to find out:
LAST SATURDAY
Demelza Hussey, 28, is an advertising executive from Woodford Green, Essex. She lives in a two-bedroom flat in with her boyfriend Ryan Mays, 24, a stockbroker and last had sex on Saturday. She says:
I think having sex is more important to men than it is to women. Before I met Ryan I hadn't slept with anyone for a year.
Ryan and I met in a club in Essex in October last year. He came over to chat to me and it went from there.
Even on our first date I knew he was special - intelligent, funny and kind. As I wouldn't sleep with anyone before the third date, we didn't get together until about two weeks into our relationship.
From then on, I don't think we've spent a night apart. Last December he officially moved into my flat and we've just had an offer accepted on a house we're buying together.
We have a really healthy sex life and usually make love three or four times a week. The only problem is the difference in our working hours. Ryan has to be in the office for 7am so he's in bed asleep by 9pm. But I commute 100 miles a day and don't get home until 7pm.
I'm usually absolutely exhausted, and by the time I'm ready for bed at 11pm (after eating and watching a bit of TV), Ryan's long fallen asleep. Obviously we do make time for each other during the week - I'll happily sacrifice some TV time for my boyfriend - but maybe not as often as Ryan would like.
Instead, weekends are our special time. We go out for a meal or have a relaxing bath — it always sets us up for a bit of romance.
NEVER
Miranda Wray, 22, is a law student at Queen's University in Belfast. She is a virgin. She says:
Virginity is very much a conscious decision for me. From the age of 14, I could see how complicated sex made relationships.
Your body may be physically ready for sex, but emotionally you aren't, and I saw so many friends getting hurt when their boyfriends left them, because they had, literally, given them everything.
People may think I'm weird to stay a virgin until I marry, but I don't care. I'm a perfectly normal 22-year-old - I love going to parties, I love music, I love clothes - I don't want to risk myself by sleeping around.
Today there is a culture of alcohol and sex. Lots of friends wake up the next morning with a hangover, saying: 'Did we or didn't we?'
I do have boyfriends, but I make it clear that sex isn't on the agenda. It hasn't put boys off asking me out - in a way, they seem relieved. One male friend told me there is such pressure on young men to perform and they have lots of insecurities.
By waiting to have sex until I am married - probably in my late 20s - sex will be much more special. I'd like my husband to be a virgin, too, so we both make the same commitment.
LAST NIGHT
Jeanette Karlsonn, 36, is a yoga teacher who lives in a one-bedroom flat in Brighton. She's been going out with her boyfriend for three months and had sex last night. She says:

A year ago, I was with a man who had a lot of personal problems and his depression brought me down.
Because he was always so miserable, I hardly ever felt turned on around him and our sex life was disappointing - once or twice a month.
I'd also been suffering from some physical problems - every month, around the time of my period, painful lumps would form in my breasts.
At one stage I worried I had cancer, despite constant reassurances from a host of doctors. The stress about my body, combined with my partner's problems, put an end to our relationship.
Then, five months ago, a friend recommended a natural vegetable powder called Maca - they said it would help regulate my hormones and stop the swelling in my breasts.
Within weeks, the pain and lumps disappeared. But I noticed a side-effect - a huge increase in my libido. I couldn't think of anything else but from sex.
Three months ago, I met my new partner, Oscar. Our sex life has hit another level, and we make love every day.
LAST WEEKEND
Annie Walker, 41, is an artist and lives in a four-bedroom house Kingston, Surrey, with her husband Sam, 40, a personal trainer, and her children from a previous marriage Amy, 15, and Sam, 13. She says:
The last time she had sex was at the weekend, but last year they went without sex for six months. When Sam and I met ten years ago and married a year later we couldn't keep our hands off each other and would make love several times a day.
Even after a couple of years it was as regular as four or five times a week. It was easy to get time to ourselves because the children were in bed by 7pm and spent alternate weekends with their dad.
But as they got older they stayed at home more often so they could see their friends and they went to bed later. Sam and I would hate them to hear us having sex, so we chose not to rather than run the risk.
We literally got out of the habit and at one point last year we didn't have sex for six months.
We were still very loving with one another, but neither of us was in the mood for anything more. But, with one failed marriage behind me, I didn't want it to become a problem.
When I confided in a friend who was having similar problems in the bedroom, she told me about a herbal arousal oil called Zestra that had helped them. I decided I'd give it a go, although I was very sceptical.
Four months ago, Sam and I booked a few hours out in our diaries one weekend when the kids were away, and tried the oil.
I was stunned when it worked and within minutes I felt the physical urge to have sex. Since then we have been making love once a week. TEN WEEKS AGO
Jo Elliott, 50, an artist and landlord, lives in a four-bedroom terrace in Bristol with her son, Tom, six. She last had sex two-and-a-half months ago. She says:

When I met my former partner, Jorge, ten years ago, I'd been single for a few years and wasn't looking for anyone, but he made me feel special. When we first slept together after two months, it felt right because we had a strong emotional connection.
While our sex life remained healthy - in 2000 I gave birth to our son Tom - the relationship wasn't so strong. Jorge was out six nights a week playing with his band, and if he was at home, he'd be tired and irritable.
For a long time we tried to work through the difficulties, but I became increasingly unhappy. I believe in giving children a stable environment and realised the relationship was actually destabilising the home.
The last time we had sex was the day before we broke up - I hadn't known I would break up with him the next day, so it wasn't awkward or sad. Since we broke up, I haven't had sex.
I have a young child to think about and am aware that any man I meet will become a part of his life, too - something I'm not prepared for at the moment.
SIX YEARS AGO
Sonia Poulton, 42, a journalist and broadcaster, lives in a three-bedroom Victorian terrace in Cirencester with her daughter, Shaye, nine. She last had sex more than six years ago. She says:

The last time I had sex was with Stephen, the father of my child. It was April 2000 and I left him one month later. I just woke up one morning and knew I couldn't go on with the relationship.
We had been together for five years and our daughter Shaye was born in 1997. We met when I was working for a London radio station in 1995 and he was a singer.
The strength in our relationship was always the physical aspect of it - we had sex four or five times a week - I used to joke that if we could live our lives in bed we would have lasted until old age.
Unfortunately, what began as petty disagreements escalated into physical fights and I knew our relationship was doomed.
The last time we had sex I had no idea it would be our final time, but it was definitely tinged with sadness as I knew the relationship was dying.
In the six celibate years since we've split, I have had a clarity about life I didn't before. I have my daughter to consider and I am proud that she has witnessed me thriving as an independent woman.
Unlike in my 20s, I now know that sex is not just physical satisfaction but it has emotional, spiritual and health implications.
I became celibate because I realised sex was an act beset with emotional, social and physical consequences - and something I could never do lightly again.
I could only have a sex life as part of a serious relationship, and I don't know if or when I'm going to meet the right person.
THREE DAYS AGO
Elizabeth Acland, 22, is an account assistant at a PR firm. She shares a two-bedroom flat with her sister in Fulham, West London, and is in a relationship with Eddie, 22, a trainee investment banker. She had sex earlier this week. She says:

I was a virgin until I met Eddie at university three years ago. I'd attended an all-girls' school and none of my friends had slept with anyone when we finished our A-levels.
Then I was introduced to Eddie through friends at university. It took us nearly a year to get together, and four months into our relationship we had sex for the first time.
Eddie had slept with girls before, which didn't bother me, but I was a bit apprehensive about having sex - anything you haven't done before is a bit scary.
However, I really trusted Eddie and since that first night, our sex life has gone from strength to strength. We're much more confident with each other, and sex is better because we know each other better, too.
After graduating, we both moved to London and live round the corner from one other. We meet up most nights and almost always have sex.
Luckily, after nearly two-and-a-half years, Eddie and I are still in love and still have an active sex life.