Home fever weighs Mike Okri down …wants to return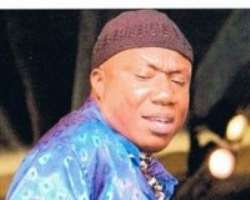 Mike I was one of the hottest musicians that bestrode the musical turf in the late 80s and mid 90s. At the peak of his career, he was also one of the highest paid acts in the land.
But as time went on, his musical fortune changed and he did what artistes before him did: he relocated to the United States of America.
And while in America, rumours made the round as to the real nature of business the Urhobo born musician was into. While some said he was a janitor at some super market, others claimed he was doing odd jobs to survive.
But by the 2000s, Mike made a surprise appearance in a musical video alongside Sauce Kid.
Today,nfc confirms in this exclusive internet chat with the Omoge singing exponent that Mike Okri is indeed a student in America and has not given up on his musical career.
Mike in the chat also reveals his pains as a student and his desire to come home and ply his musical trade once more.
Excerpts;.
Old boy, how are you ?
I 'm fine my brother
And how's America?
America dey fine, thank God. All the same, how you dey with the family?
The industry seemed to have blown out of proportion. Wish it happened in our time…
It's still our time my Broda.
I'm coming back big time. Leaving the scene awhile was good for the mind.
It's still ours yes. But we really have to do research work to redirect the music industry. Na we own to own my brother.
Ol' boy, I've found my calling and style. And to God be the glory, it's called the Afro-mystic-soul.
What is that one-gospel or Afrobeat?
My guy, don't make me laugh. Are you now a comedian? Any way, you need not worry because very soon, you go hear from me.
But this first come back piece will be gospel music and after that comes the real gbedu.
So when are we expecting the new job?
The thing don tire me sef, For here…Na God hand e dey…I believe
Why ?
Going back to school . And believe me it wasn't my choice but some how I come like am. But the major problem is that e come too dey tey, my brother.
It is eating into my valuable time. But God dey
2010 is a must by His grace
Story by http://nollywoodgists.com