Controversial Weird One, Denrenle Edun At It Again, Displays New Shoe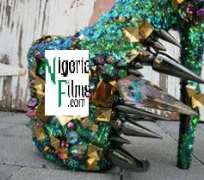 Former Soundcity presenter, Denrele Edun is well known in the razzmatazz business both here in Nigeria and outside Nigeria, especially in other African countries for his weird style of dressing.
Some call him the 'celebrity madman' because of how he has over time made his weird style of dressing become a trademark of his.
Just some months ago, Denrele came out to an event with a very high heel show. Many who saw him could not but feel surprised at what they were seeing him wear.
This time, the Channel O presenter has bought another shoe, a high heel shoe wike spikes as seen in the picture above.
Denrele, after this, what else should we expect from you?