American Kidnapped, Driver Killed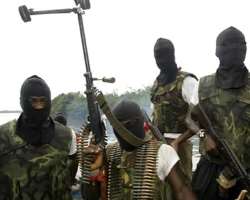 Gunmen kidnapped an American working for Marubeni Corp in Nigeria's oil-rich Niger Delta region on Friday, killing his driver and demanding a 50 million naira ($310,300) ransom, police and a security source said.
"A foreign national was kidnapped this morning in Warri by gunmen who trailed him from Sapele," Charles Muka, spokesman for the Delta Police Command, told Reuters.
"They killed his police escort and forcefully took him away from the car. He was going to the bank when the attack occurred. We do not know his nationality yet, we are still investigating," he said.
A security source, who could not be named, said that the hostage was an American working for Japanese conglomerate Marubeni, but did not give further details.
The Niger Delta, heartland of Africa's biggest oil and gas industry, is prone to bouts of unrest and riven by militant factions. Gangs use guns and speedboats to run criminal fiefdoms that profit from kidnapping and oil theft.
Militant activity decreased after an amnesty for several commanders in 2009, but the region remains volatile.
REUTERS