Dickson Iroegbu turns preacher, shaves 7- year old deadlock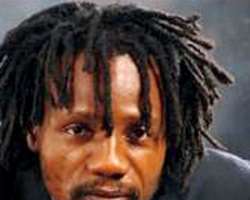 Have you set your eyes on Dickson Iroegbu recently? If you have not, then this breaking news is for you. Whether it's for real or not, top Nollywood director, Iroegbu, has turned a new leaf, abandoning his Rastafarian lifestyle in pursuit of heavenly happiness.
He has shaved his 7- year old deadlock to the surprise of his fans, declaring, "I'm a born- again Christian now." Iroegbu did not only shave his deadlock, his lifestyle too has equally received a boost.
HVP, spotting Iroegbu at the just concluded ION International film festival, held in the Garden City, Port Harcourt last week, was something of the "unexpected'- a changed Dickson, clad in a casual wear, humbled by his new outlook.
Iroegbu would not confirm whether he performed certain rituals before shaving his deadlock. Rather, he muted, "I'm a man who believes in change. I preach change and I need to practise change. I have carried it for 7 years now, and it's time for a change of look."
Iroegbu, whose pan-African film, "Child Soldier" , shot early this year in 35 MM, added that as a film director, his new posture has a lot to do with his renewed effort to maintain the standard that he has set for himself. His "Child Soldier" film discourages the use of children in war situations by government forces, paramilitary organisations and rebel forces.
An AMAA awards winning director, Dickson Iroegbu joined in 1997 as a production assistant, before he delved into script writing, turning out scripts that became blockbusters. He started growing deadlock seven years thereafter.
The turning point in his career came in 2001 when despite criticisms, he went ahead to direct a film titled, "Days of Glory." It was the film that opened the floodgate of works, accolades and awards for the father of two children.
Meanwhile, Iroegbu, in the last 11years, has produced award winning movies such as "Mayors", Women's Cot", "Critical Condition" and "Little Angel" amongst many others.
Story by www.nollywoodgists.com