2013 ANC QUALIFIERS: KESHI RULES OUT HOME EAGLES AGAINST RWANDA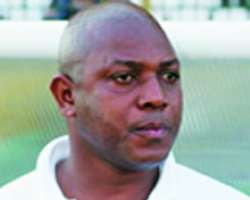 While Nigerians have continued to applaud the performance of the Home Eagles, who were forced to a goalless draw by the Angolan national team in an international friendly match played at the Abuja National Stadium on Wednesday, Coach Stephen Keshi has said that it's not yet Uhuru.
The coach noted that he was happy with the performance of the players in the match, but stated that the team had yet to arrive, as there're still more work do be done to ensure its proper progress. He, however, advised Nigerians not to be carried away by the home draw against the Angolan senior national team.
Angola paraded her first team squad, which Coach Lito Vidigal said would play the country's first match at the Africa Cup of Nations in Gabon/Equatorial Guinea. The Angolan team included top players like striker Mateus Contreiras Alberto popularly known as Manucho, goalkeeper Carlos Alberto Fernandes and winger Flavio Amado to mention a few, yet the Home Eagles held their own against the visitors.
'I'm happy with the performance of the boys, they really played to my expectation, but we should not be carried away by what they did because there is still a lot of work to be done. As we play more of this kind of matches, their confidence level will grow further and better,' Keshi said shortly after the friendly match on Wednesday.
The coach, however, said that he would not rely on the boys to play the first round of the African Cup of Nation's qualifiers against Rwanda, but maintained that some of them would make his team for the match. The Home Eagles, put together by Keshi, played as a team that is determined to lay claim to the main stream of the national team.
The Angolans, who used the match as part of their preparation for this month's African Cup of Nation, did not actually find the match easy, as the Keshi-tutored side did not give them chance to make an impact. Though the Eagles may have been forced to a goalless draw, and the team that played to the admiration of the fans was not really potent in the attack, the midfield was properly coordinated.