I Am Ashamed And Regretted Campaigning For President Jonathan --Daddy Showkey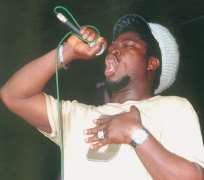 It is getting more interesting daily at the number of Nigerian top celebrities, who earlier supported President Goodluck Ebele Jonathan,now coming out to leave him alone in the cold.
Some have interpreted the actions of some of these celebrities as legendary, while others believe they are just trying to get public sympathy back, after initially loosing it during the elections period in 2011.
Some top celebrities that have denounced their earlier support for President Jonathan, especially on the removal of fuel subsidy, are Don Jazzy, Segun Arinze, D'Banj, and others.
The latest Nigerian celebrity, who vigorously campaigned for President Jonathan with his "Goodluck to you, Goodluck to me, Goodluck to everybody" song, Daddy Showkey, has openly lashed out on Mr President.
Speaking to a mammoth crowd at the OccupyNigeria protest at Ojota,Lagos today, the dreadlocked Deltan singer confessed, "I am ashamed and regretted that I campaigned for this man (President Jonathan).
The removal of fuel subsidy has caused a lot of upset in the Nigerian polity. It has also caused a nationwide strike by labour unions in the country, with the strike entering its fourth day today.
© 2012 Nollywoodgists.com. All rights reserved. This material may not be published, broadcast, rewritten or redistributed without the express written consent of the publisher