Fuel Subsidy Removal: Amaechi Seeks Labour's Understanding, Co-operation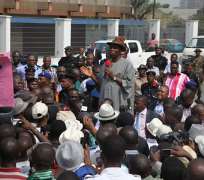 PORT HARCOURT, January 10, (THEWILL) - Rivers State Governor Rt. Hon. Chibuike Rotimi Amaechi has appealed to labour unions in Rivers State to collaborate and work with government to transform the economy.
He made the appeal Tuesday, when members of the Rivers State branch of the Trade Union Congress (TUC) and the Nigeria Labour Congress (NLC) led a protest march to Government House, Port Harcourt over the current removal of Fuel subsidy by the Federal Government.
Governor Amaechi, who is also Chairman, Nigeria Governors' Forum, said the President's decision on removal of subsidy is to rescue the economy of the country.
"The President is on a rescue mission. We know that there are challenges in the society, but Nigeria cannot continue to go the way Nigeria is going now".
"I will plead with Labour to please bear with the President. We don't have two countries, we have just one country. The challenge of this country today is the sectarian killings in the country and Labour should not be part of it by doing what they are doing now because we will confuse the sectarian killings to be oil subsidy crisis and we will run into trouble", he said.
Governor Amaechi said in a meeting with National Union of Road Transport Workers (NURTW), Rivers State Chapter and with Petroleum Marketers in the state, government has worked out measures to cut the pump price of fuel from the current benchmark of N141 to N137 per litre.
"As a State Government we will not be willing to go above N137 for fuel pump price. We owe an obligation to guarantee the security of your resources under every circumstance. This is why as a government we cannot stand by and watch while a tiny cabal appropriate your resources to feather their already cushioned nests".
"I have agreed with them (NURTW) that no transport fare should be above N70 apart from fares for Choba and Rumuokoro. We have agreed that the fare from Mile three to Education bus stop should be N50; from Education Bus Stop to Rumuola N50, from Garrison to Park, N50", he said.
Also as a palliative measure, Governor Amaechi said his government would provide mass transit buses which would be managed by the NURTW.
Also, as part of his efforts to cushion the effects of the fuel subsidy removal on Rivers People, Governor Amaechi continued his series of meetings with stakeholders in the oil sector and related sectors with a parley with major petroleum products marketers and petroleum tank farm owners in Government House yesterday. The meeting was to ensure that the N137 pump price for a litre of petrol in Rivers State is implemented by all the petroleum marketers in the state.