We Must Sustain Confidence In Democracy - Atiku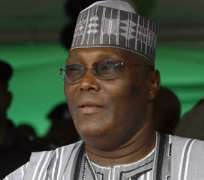 SAN FRANCISCO, December 31, (THEWILL) - Former Vice President Atiku Abubakar has urged elected leaders at all levels to attend urgently to the basic needs of the voters with a view to sustaining popular faith in democratic governance.
In his New Year message to Nigerians, which was released by his media office in Abuja, the former Vice President noted that the level of resources available to elected leaders must justify the legitimate expectations of the electorate for better quality of life.
According to him, thirteen years of unbroken democratic governance should give the people valid reasons to expect reasonable improvements in their lives.
He regretted that Nigeria is one of the societies where politicians are so openly hated not because democracy is bad per se but because of the fact that they abandon the people once they are sworn into office.
In his words: "When elected leaders abandon the people, alienation sets in and ultimately making the voters to develop apathy towards democratic governance and resentment towards the leaders. The people see their votes as an investment to better their future."
The former Vice President also noted that a repeated failure to keep promises made carries the risk of the people losing faith, let alone caring to defend democracy.
The Turaki Adamawa regretted that the wanton display of wealth by leaders at a time the living conditions of the people is degenerating at alarming rate is irreconcilable with the primary objectives of providing selfless and honest service to the people.
He further noted that the perception of democratic rule as a gravy train has led to all manner of politicians seeking power. According to him, the main attraction to politics should be selfless service and not money making.
Expressing concern at how corruption has destroyed the quality of governance, Atiku Abubakar said leaders preoccupied with money making would not be committed to the welfare of the people.
He however, noted that as Nigerians enter the New Year, leaders must do a soul-searching and restore the hope of the people in the democratic system.