WE'LL RESIST LAGOS INVASION -ADUWO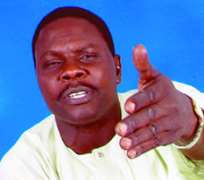 •Aduwo
As the National Independent Electoral Commission(INEC), begins the conduct of governorship elections into the states where elections were not held during the last general election, the National Coordinator of Rights Monitoring Group (RMG), Olufemi Akinbule Aduwo, has condemned the mindset of some people, who believe that it is only when a party in opposition defeats an incumbent that election is said to be free, fair and credible.
According to him, election has guidelines and if the security, the electoral body and the political parties comply with them, the election would be free and fair no matter the outcome.
He said that it was natural for people to have sympathy for the underdogs but it is always the case in elections that have set rules.
Aduwo said what critics should be concerned about in elections is whether the stakeholders played by the rules and not necessarily who wins the election.
He also spoke on the forthcoming governorship election in Ondo State, what INEC should do to ensure proper conduct of the rescheduled governorship elections and other issues.
Excerpts:
Rescheduled governorship elections
As the National Coordinator of RMG as well as the National Coordinator of Conference on Security, Development and Democracy in Nigeria, a coalition of 79 non-governmental organisations that are focused on transformation and constitution amendments, we have been in election monitoring for over a decade now and since then I have noticed a trend. Some people believe that it is only when an incumbent is defeated in an election that it is said to be free, fair and credible. But I want to say that the mindset is not right and that is why elections have been heavily criticised in the country. Election, like science, has its own rules and once that rule is followed, the outcome is not important. But here in Nigeria, people worry more about the end than the means. For election to be credible, all the stakeholders must play their parts.
The stakeholder in this regard involves the electoral body. They have to make sure that election materials are distributed in time. They have to make sure that there is comprehensive and valid voters register. They must make sure that they arrive at their designated polling units in time and that proper accredition is done and after the voting exercise, counting is done in the presence of the party agents and every one of them sign the result and take a copy. The next is the security personnel deployed for the election.
They have to ensure that there is a level playing ground for all the contestants, that nobody is intimidated, either before or during the election. They are also to provide security to the electoral personnel as well as the voters on the election day. Then the political parties have to educate their voters with rules governing conduct of election. They must not make use of thugs, or try to intimidate the opponents. Once this is done, the outcome of the election would be credible no matter who wins. But the situation whereby everybody keeps quiet and does nothing, just waiting for the outcome of the election to criticise INEC and the incumbent party is not fair. I want to say that incumbents are beatable if the opposition assure the voters that they are credible alternatives, especially in the states the incumbents are unpopular or are not doing well.
Forthcoming Ondo governorship election
Before I go on to talk about politics in Ondo State, I want to make it clear that I am not a card carrying member of any of the current existing political parties in the country. My only concern is that I am a Nigerian from Ilaje in Ondo State so, that naturally makes me a stakeholder in the affairs of the state. Apart from being engaged in election monitoring, I also monitor developments in my state. I want to say that measurement of good governance goes beyond how many roads a governor tarred or how many houses he built during a particular tenure. The security of lives and property are the major yardstick. I am talking with regards to human right violation, employment consideration and all that.
These areas are very key. And I strongly believe that the current governor has done well in the regard. In the popular parlance, I will say that he is performing. With regard to the forthcoming governorship election in the state, my advice to the parties in opposition, most especially the PDP is to try and put their house in order. I want a competitive election in the state. But as I am talking to you now, PDP in Ondo is in disarray. That is what I was talking about taking care of the means. Political parties would not put their house in order and when they fail in election, they would begin to criticise INEC and the incumbent. PDP in Ondo state needs to rebuild the party.
There are so many people with ambitions in the party. They should rebuild the party so they would become relevant. The reason is because Ondo is not like the other states where you have people coming from other states to lord it over them. There is nothing wrong in challenging the incumbent governor. My only concern is that for the polity not be over heated. But for you to defeat a sitting governor, you have to come with an appealing agenda. The level of corruption in Nigeria today notwithstanding, we still have a high level of integrity in Ondo State. Ondo people are ready to defend what ever they believe in. As I have said earlier, Mimiko has performed very well in the area of Millennium Development Goals. Again, the welfare package of the state civil servants is also very attractive.
While some state governments are still battling to pay, Mimiko is already paying the new minimum wage. But he can still do more. One thing is very clear. Since he became the governor, there is high level of stability in terms of security. We know some time ago there were isolated cases of kidnapping but now it is a thing of the past. What we need in the governorship election in Ondo is peace. We don't want foreign invasion. Ondo people should not give room to the political hyenas that are based in Lagos and keen to colonise every part of the south west.Ondo is not for annexation. If a governor is performing, Ondo people will stand by him. That is our culture.
Political configuration of Ondo State
Well, it might interest you to know that Ondo State has a very interesting political configuration. For instance, Ondo Central, where Dr. Olusegun Mimiko comes from, has the highest polling units as well as the highest population in Ondo State and when you check the voting pattern, they determine who wins the governorship of the state. Yet Mimiko is the first governor of the state from Ondo Central. Pa Adekunle Ajasin came from Ondo North. Adefarati was from Ondo South Senatorial zone.So also is Agagu. This is one facts that political pundits should always consider when talking about Ondo politics and Mimiko has been able to show that leadership is about integrity and trust. When he wanted to contest as a governor in Ondo State, Labour Party was unknown but people voted for him because of his person. If he is like the other politicians, by now, he would have joined the PDP or the Action Congress of Nigeria because politicians want to belong to the ruling party. But because his people gave him mandate on the platform of the Labour Party, he has decided to remain there. He has been consistent and that is the true character of an average Ondo person
Second term
I want to say that he has done enough to deserve a second term. One attribute of desperate political office seekers is using the machinery of government to intimidate opponents but in Ondo State, there is nothing like that. There is peace. Lives and property are safe, and people are sleeping with their two eyes closed. So, I feel this will count in his favour at the election. Ondo people are politically informed. They are enlightened so, this is not a case of somebody coming from outside with bags of money to bribe them.
Last Kogi governorship election
I give kudos to Jega. I always say to have a free fair and acceptable election results involve the security, INEC and political parties. The issue of rigging is a universal problem. For instance, today Russia is in a mess because of their last election. But here in Kogi people were shocked that Kogi did not burn. The Kogi election was an improvement on the last general election and I pray that it would continue to get better and better. As I have said earlier, they still have a lot to do in the area of material and personnel movement and distribution.