Celebs recount memorable Christmas experiences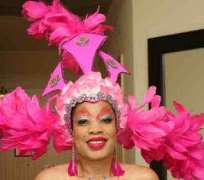 The celebrities are human too. They have memories of pain, love, pleasure and time. A number of celebs have opened up to Showbiz Now on their most memorable Christmas experience.
Stella Damasus
I was seven years old then. They took us all to my mother's village in Owerri. We had a singing competition and I won. The rule was that every household must give me a gift. I got so many gifts than I could handle. That was so memorable.
Francis Duru
As a child, my father would always buy a big cock and would eat special Christmas rice with us. Another memorable experience was going to the church to watch Baby Jesus in a manger and attend Christmas carol. Times have changed, what children want now isn't what we wanted as children. Things have changed.
Uche Jombo
December 28 is my birthday, so every December is always memorable for me. I don't separate one from another. I mark my birthday and Christmas in December and, as far as I can remember, they have always been memorable.
Bhairay
Coming from an upwardly mobile family, everyone is so busy and on the go, even at Christmas. So, a couple of years ago, my mum sent me a flight ticket to come home as something serious had happened. Of course, I got into the next flight only to discover it was a prank! And she had sent every other person a return ticket as well just to get the family together for some great thanksgiving and family home-made meal!
Ali Baba
The first Christmas that Xqzmoi, my event centre hosted, besides being fully booked from November 23, 2006, till January 16, 2007, just to see a dream come to life, brought tears to my eyes. I'm working towards another project that would open in February 2012.
Segun Arinze
Being alive every Christmas is always very memorable because God kept me alive by His grace and compassion! I thank him for sustenance of life!
Blessing Egbe
My funniest time of Christmas was way back in the police barracks when the eve of Christmas was a big deal. We would stay up till the break of 25th, decorating the house and going from door to door singing carols in groups. And D-day it was a do or die matter to compare and flaunt your new Christmas dress, wear new shoes, hairdo and earrings. And after visiting every family friend and relation, we would retire to a home full of presents and gifts as compared to who got the most. And on the 26th, all boxes and presents would be opened.
Tonto Dike
My favourite memory of Christmas when I was a kid are new clothes, shoes, jewelleries and I would be unable to sleep at night (eve of Xmas) out of joy, because I couldn't wait for dawn so I could bathe and slip tiny me into my new outfit to show off in church the next day (December 25th). Christmas was so much fun as a child.
Basket Mouth
My favourite Christmas memory is awkward, it was in 1999, we left school for the Christmas holiday and decided to spend it with my manager back then, Bayo Adekeye, in his home town (Ile Oluji) in Ondo State. His parents were not supposed to be around, but we were surprised with their presence and had to sneak out of the house to squat with some of his friends. It was the first and last Christmas I didn't eat the traditional Christmas rice and stew. Didn't even get a Christmas gift; it's the one Christmas I would live to remember.
Monalisa Chindah
Christmas season brings forth the beauty of Christ, love and salvation. Spending precious moments with my diamond, Tamar, last Christmas left a soothing and lasting memory in me.
Denrele
My unequalled, unparalleled and unrivalled Christmas would be the very first time I was away from my family during Christmas! Christmas is always with family and I delight in trying to harass the daylight out of them, especially my dad, my sisters and my uncountable cousins!
The memorable Christmas would definitely be in 2008 with P-Square as we invaded Lusaka, Zambia. It was the final leg of their African tour and I was opportune as a media personality to tag along and report the whole event for Soundcity. The whole Zambia besieged us at the airport! We practically had to change hotels like four times, and for every radio interview we did, there were boundless crowd waiting for us outside!