The flavor of "Flavour" at Dallas Concert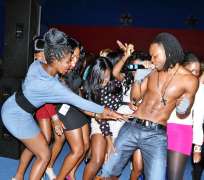 Dallas – The Texas Star meeting and event facility center was at its crescendo during the All African DFW thanksgiving Bash put together by Big A Entertainment and Townkrier DFW. Hundreds of concert lovers savored the flavor of top Nigerian artist, Flavour Nabania as he dished out a series of his hit songs to the admiration of fans.
The concert also featured performances by Sean CZA, H-Bolo, DJ Domi and DJ Dulo. Los Angeles based creative comedian Wamilele and cosmetic Jewelry and accesories designer Bose Trendybeads also added flavor to the event. The concert attracted a cross section of Africans who all showed love to the "Ashawo" exponent. As usual, the Trendy Africa Crew captured the moments to treasure.