US-based institute to improve quality of Nigerian films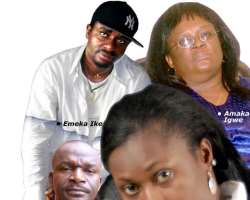 The Managing Director of Del-York International, an academic institute based in New York, Linus Idaosa, said that the academy will assist in improving the quality of Nigerian films.
Ndaosa told journalists on Wednesday in Abuja that "the film industry is considered a critical sector for national economic prosperity and for the effective projection and preservation of national identity by the world's leading economies.''
Idaosa said that with the right human capital base, Nigeria would be able to develop a globally competitive film industry.
He said that for Nigeria to have highly skilled film-makers, it must begin to expose its movie-makers and movie-enthusiasts to intensive world-class training programmes.
He disclosed that Del-York International would commence training for over 1,000 persons from February 1, 2010 in the Abuja zone, while training in the Lagos zone will start in March.
The course outline, according to him, will include operation of 35mm and 16 mm film cameras, high-definition cameras, lighting and sound systems, editing suites and projectors, among others.
Speaking on the initiative of the academy, Nigeria's Minister of Information and Communications, Professor Dora Akunyili, said that film was a major tool for implementing the Nigerian government's rebranding programme.
Akunyili said that the film industry was a major sector of the economy, which reflected how the citizens and the foreigners perceived Nigeria and interacted with the country.
"Del-York has committed itself to bringing New York Film Academy to Nigeria to intensively train our movie makers and movie enthusiasts from January to April 2010,'' she said.
Akunyili noted that the Academy was the foremost film training school in the world, adding that it had signified a genuine interest in the development of Nigeria's film industry.
Akunyili said that the industry had been faced with a lot of challenges in the recent past and that Nollywood, the Nigerian movie industry, was in dire need of capacity building initiatives such as the one being handled by the New Yolk Film Academy.
She, nonetheless, urged the academy to show more interest in script development, directing, films' distribution and marketing in the capacity building activity.
Story by http://nollywoodgists.com