Felicima: The cripple who loves Genevieve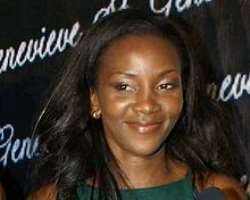 For a long time, crippled people to us are not meant to be pitied. Who would want to be in their shoes? This is because most of the time they are beggars, and are underestimated. They have been neglected. They are among people that should keep the government busy. But Slim Dennis Ometan (producer) and Henry Omeronye (director) are bound to change all these as they featured a cripple (Agu Agidi) in Felicima.
This film is about a very rich young lady known as Felicima (Genevieve Nnaji) who had it all: success, style, love, a business and name of the highest reputation. She one day saw an intriguing picture of a beggar reading news paper (Agu Agidi)and her curiosity was so strong that she could not help but follow the beggar and then she saw something she never knew existed in his strange world.
This beggar on the other hand is a very intelligent man who is self taught and doesn't have any credentials to show for the things he knows. To survive he had to beg but he was determiined not to remain a beggar for the rest of his life so he decided to apply for this job. One of the very touching scenes of the film is that which depicts this cripple struggling to get a bus that will convey him to an interview and in tattered clothes.
The film featrued many Nollywood stars which included Geneviene Nnaji, Alex Usifo, Ngozi Ezeonu, Basorge Tariah (Jr), Yemi Blag, Segun Arinze, Alex Lopez, and Fedick Leonards .
Talking about his experience in directing the film, Henry Omeronye said he did not appreciate how much a disabled person is capable of until he had to be in the same room with one of them and then he askd them to do things that will surprise him and then he was shocked. Felicima is a story that will change your perceptions of the disabled and make you do some soul searching.
Story by http://nollywoodgists.com