Donald Named PGA Tour Player Of The Year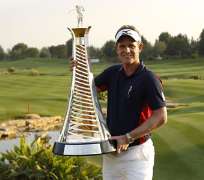 Luke Donald was named the 2011 PGA Tour Player of the Year on Tuesday, becoming the first Briton to win the award since it started in 1990.
The award, decided by votes from PGA Tour players, was announced just two days after the current world number one became the first player to top the European Tour money lists and the Order of Merit on the U.S. circuit.
American Keegan Bradley, who won this year's PGA Championship in Atlanta, was named the PGA Tour's Rookie of the Year.
"My congratulations to Luke and Keegan for their award-winning accomplishments in 2011," PGA Tour commissioner Tim Finchem said in a statement.
"Both players had significant and impressive performances throughout the course of the year, and the member vote reflects the respect their peers have for them."
Donald, 34, won the WGC-Accenture Match Play Championship and the season-ending Disney Classic on the PGA Tour this year and had 14 top ten finishes from 19 tournaments.
Despite remaining without a major championship win, it was his remarkable consistency in 2011 that secured him the Jack Nicklaus Trophy.
"It is a great honor, obviously, to cap off what has been an amazing year for me," Donald said on a teleconference.
"It's obviously been a tremendously consistent year for me. It's not easy to be a member of both tours and do what I've done. To be the first is very special and I think it's probably my greatest achievement this year."
After sweeping all the big awards in 2011, the Englishman said his focus for 2012 was to win an elusive major.
"I suppose there is a little bit more pressure, a bit more expectation in majors and I need to learn to better handle that," he said.
"Obviously this year has been a breakout year for me in terms of my confidence levels and hopefully those confidence levels will be carried over to next yea rand will serve me well in the majors.".
Bradley, who also won at the Byron Nelson Championship, became the first player since Todd Hamilton in 2004 to win twice in his rookie year, capped by his playoff victory over Jason Dufner in the last major of the year.
"You get one chance to win this award and it was the main goal of mine at the start of the year, it is a huge honor and privilege to be Rookie of the Year," said Bradley.
REUTERS