Nollywood Actress, Susan Peters Raises Fund For Motherless Babies For Christmas Through A Concert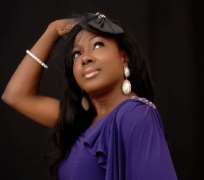 It is almost becoming a new trend for those in the make-believe industry waking up to what is expected of them, giving back to the society. Just recently, controversial Tonto Dikeh hosted some kids, where she gave them educational scholarships.
In the corporate world, every good organizations earmark a certain amount for what is termed Corporate Social Responsibility (CSR), where they give back to their host communities.
For those in the movie section of the entertainment industry, the people who buy or watch Nollywood's movies can rightly be considered as the host communities, as the case may be here.
It is of this necessity that one of Nollywood's products, Susan Peters is in her own little way is giving back to those who have appreciated her.
Susan Peters has concluded arrangement to raise fund for the motherless babies for Christmas through a concert.
According to The Duchess, as Susan is fondly referred to, she is raising money for some kids on December 23, at the Civic Centre, Victoria Island. She also said that Wizkid has made his intention known to support the cause by performing for the kids at the concert.
She has also called for support by other well meaning Nigerians to come out and support this noble cause by making their donations on that day. The concert is billed to start from 7pm and end by 10pm.