BREAKING NEWS: Maryam Babangida is Dead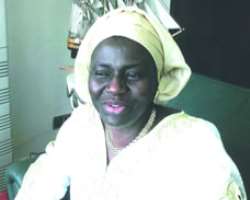 Maryam Babangida, Nigeria's former First Lady is dead. The fomer chairperson of the Better Life for Rural Women during her husband's years in office, had been hospitalised for ovarian cancer at the UCLA's Jonsson Comprehensive Cancer Center in Los Angeles.
Mrs. Babaginda's condition worsened about six months ago after she attended the wedding of Umaru Yar'Adua's daughter, Nafisat, who married the 54 -year old governor of Bauchi State.
General Babangida, the retired ex-dictator was granted a US visa on compassionate grounds to be at the bedside of his wife, till her death. Her cancer had reached an advanced stage.
From NFC: May the gentle soul of the most colorful, admirable and humble Mrs MARIAM BABANGIDA rest in perfect peace.
Story by http://nollywoodgists.com