Dele Momodu: The Harsh Calls He Got From Those In Power Regarding His Recent Article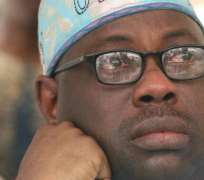 Over the weekend, Dele Momodu discussed the calls he had received from some of those in power regarding his recent article on ThisDay.
He tweeted:
'"As soon as my column hit streets a week ago, I received some frantic & strident calls 4rm those @ the corridors of power ... When U write wht powers-that-be consider positive, no 1 remembers 2 say thank U but when U write lines they find offensive, u Bcome an enemy ... I rlly dont worry my head if they develop insomnia Bcos of wht & how I write. They ve given most Nigerians enough migraine 2 last a lifetime ... The foundation of democracy is the rule of law ... A truly democratic nation must make the same laws for Saints and sinners alike ... Our government operatives must rise above the pettiness of setting the whole village on fire to catch bush-meats''
click the link below to go to...