African-Funded Philanthropies Convene in Lagos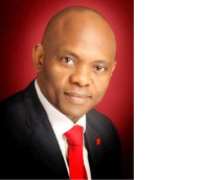 The Tony Elumelu Foundation (TEF) and World Bank hosted a convening of African-funded philanthropic organisations on Wednesday, November 30, 2011, in Lagos, Nigeria to discuss the continent's philanthropy landscape. The meeting reviewed the
 priorities and programs of African-funded foundations, with participants deliberating opportunities for specific collaborations as well as ensuring an effective enabling policy and legal framework for philanthropy at the country level.
'These are unique times for Africa,' said Tony O. Elumelu, MFR, Founder of TEF. 'What this convening platform will do is create a collaboration framework for the emerging class of African-funded foundations, so that together, these institutions can have the same kind of impact that organised American philanthropy has had over the last century.'
Participating philanthropic organisations included the Brenthurst Foundation, the FATE Foundation, Kagiso Trust, the Kenya Community Development Foundation, the Made in Africa Foundation, the Motsepe Family Foundation, Nelson Mandela Children's Fund, Thabo Mbeki Foundation, The Tony Elumelu Foundation, and The Wellbeing Foundation. These foundations represent a combination of those established by high-net-worth Africans, African political leaders, and endowed community grant-making organisations. 
'It was interesting to hear what other foundations on the continent are doing,' said Lebogang Mahaye of the Thabo Mbeki Foundation. 'We can make a more significant impact if we work as a collective, rather than as individual organisations.'
 
'I welcome the opportunity to participate and build new pro-Africa, pro-development, multi-sector synergies towards effective philanthropy, action and advocacy,' affirmed Toyin Saraki, Founder of the Wellbeing Foundation. 'The Wellbeing Foundation is delighted to be part of this innovation that will lead the way for impactful collaborations in years to come.'
 
As foundations become an increasingly important source of knowledge, capacity building, and financing in Africa, the World Bank is exploring how to work more closely with foundations to support sustainable, equitable, and inclusive growth in Africa. The current dynamism on the continent, and the emergence of new development partners, prompted the World Bank to review and renew its strategy for Africa this year.  
 
"The emergence of more well-funded African foundations is indicative of the dynamism of better economic performance that the continent has begun to experience," said Obiageli Ezekwesili, the World Bank's Vice President for the Africa Region.  "We see African foundations as critical partners in the implementation of our new Strategy, as they can test innovative ideas, take risks, and play a catalytic role to nurture entrepreneurship, citizen engagement, and social accountability.'
The meeting agreed on a series of steps for knowledge sharing and program collaboration to accelerate the growth of the African philanthropic sector - which are summarised as the 'Ikoyi Initiative', a nod to the location of what is now being considered a historic first convening of its kind for philanthropy in Africa.
 
'This was a one-of-a-kind meeting,' said Randa Adechoubou of the Motsepe Family Foundation. 'The Ikoyi Initiative is a stepping stone in getting all the African key stakeholders involved in the process of transforming their communities and changing the face of the continent. The Ikoyi Initiative demonstrates that we are ready to be key drivers and not just recipients of change.'
 
While the organisations represented a diversity of sector focus areas ranging from public policy to health and education - as well as a diversity of approaches and geographic coverage - what they have in common is that they are part of an emerging new trend where Africans are taking charge of the continent's economic development. 
 
'This meeting could not have come at a better time,' said Janet Mawiyoo, the founding co-chair of the African Grantmakers Network and the Executive Director of the Kenya Community Development Foundation. 'With improved communication among African philanthropic organisations, it is hoped that there can be closer relationships to objectively work together to address issues of resources and their allocation, maintain unity of purpose, as well as address the sustainability of African foundations. The ultimate goal is to achieve the institutionalisation and strengthening of organised giving in Africa.'
 
Contact:
JeNika P. Mukoro
Director, Marketing & Corporate Communications
  http://us.mc57.mail.yahoo.com/mc/compose?to=
#          #          #
The Brenthurst Foundation
The Brenthurst Foundation is on the frontier of new ideas and innovative actions for strengthening Africa's economic performance. Our activities are focused in three areas: encouraging key decision-makers and experts to share experiences and insights at private meetings and seminars; delivering relevant, practical  policy advice  to governments; and generating new thinking and  http://www.thebrenthurstfoundation.org/thought-leadership.htm thought-leadership  to address Africa's development challenges. For more information, please visit http://www.thebrenthurstfoundation.org/ www.thebrenthurstfoundation.org http://www.thebrenthurstfoundation.org/policy-advice.htm .
 
FATE Foundation
FATE Foundation is a non-profit, private sector-led organisation created in March 2000 to tackle the high rate of unemployment and poverty in Nigeria. The mission of FATE is to foster wealth creation by promoting Business and Entrepreneurial development among Nigerian Youth with the aim of fostering the establishment and growth of over 1,000 businesses by 2005 and 5,000 businesses by 2015. These businesses will lead to the creation of employment for at least 50,000 Nigerians by 2015. For more information, please visit www.fatefoundation.com http://www.fatefoundation.com/ .
 
Kagiso Trust
The Kagiso Trust (KT) was established in May 1985 and remains the oldest and most respected black-led development facilitation agency in South Africa. The organisation was established as a mechanism to channel funds which would promote the struggle as well as uplift and empower communities deprived by the system. Since its inception, KT has disbursed over R1.2 billion. The contributions to, and hands-on involvement in, a wide range of projects have allowed Kagiso Trust to make a real difference to the lives of many thousands of South Africans. For more information, please visit www.kagiso.com http://www.kagiso.com/ .
 
Kenya Community Development Foundation
Founded in 1997 and registered in Kenya as a public foundation, Kenya Community Development Foundation is a Kenyan development organisation that supports communities to drive their own development priorities, by linking them to resources and information. The foundation promotes sustainable development approaches by, among other things, encouraging local resource mobilisation, and helping communities to utilise resources in strengthening of capacities of local organisations to be effective in promoting community-driven development efforts, and building linkages and partnerships with other like-minded actors who speak to the issues they care about. For more information, please visit www.kcdf.or.ke http://www.kcdf.or.ke/ .
 
Made in Africa Foundation
Made In Africa Ltd was founded in 2006 by Ozwald Boateng, Chris Cleverly and Pr. Hassan Kimbugwe. It is a Mauritius-based company dedicated to bringing innovative ideas and capital to Africa. Made In Africa co-hosted, with former Ghanaian President Kufuor, the State Banquet for Ghana's African Union conference, and the UK's Department for International Development 2010 Whitehall conference on Growth Corridors. Made In Africa continues to advise governments, including that of the UK Prime Minister David Cameron, on infrastructure, innovation and development finance.
 
Motsepe Family Foundation
The Motsepe Family Foundation is committed to improving the living conditions and lifestyles of poor, unemployed and marginalised persons. The Foundation collaborates and works in partnership with NGOs, churches, governments, community upliftment entities and other stakeholders to leverage and increase the effectiveness and benefits to poor and underdeveloped communities. For more information, please visit www.motsepefamilyfoundation.org http://www.motsepefamilyfoundation.org/ .
Nelson Mandela Children's Fund
Driven by his love for children and a desire to end their suffering, former President Mandela established the Nelson Mandela Children's Fund (NMCF) in 1995. From 1996 to 1998, NMCF successfully mobilized over R36 million to fund over 780 projects, at an average of R40, 000 per project. Grounded in the legacy of its founder, NMCF initially operated as a grant-making organization promoting a humanitarian response to the plight of South Africa 's children and youth. For more information, please visit www.nelsonmandelachildrensfund.com http://www.nelsonmandelachildrensfund.com/ .
 
The Thabo Mbeki Foundation
The Thabo Mbeki Foundation is a non-profit organisation established in 2008 upon Mr. Mbeki's retirement as President of the Republic of South Africa to support his continuing engagement with efforts aimed at promoting the achievement of Africa's renaissance. For more information, please visit www.tmfoundation.org.za http://www.tmfoundation.org.za/ .
 
The Tony Elumelu Foundation
The Tony Elumelu Foundation is an Africa-based and African-funded not-for-profit institution dedicated to the promotion and celebration of excellence in business leadership and entrepreneurship across Africa. As a 21st century catalytic philanthropy, the Foundation is committed to the economic transformation of Africa by enhancing the competitiveness and growth of the African private sector. Founded in 2010 by Tony O. Elumelu, MFR, the Foundation identifies and addresses systemic challenges that inhibit African entrepreneurs. For more information, please visit www.tonyelumelufoundation.org http://www.tonyelumelufoundation.org/ .
 
The Wellbeing Foundation
The Wellbeing Foundation was founded in 2003 out of the abundance of compassion and uncommon ability for effective action which its Founder and President, Mrs. Toyin Saraki, has for the development of people and communities at large. The Foundation's goal is the total eradication of the poverty of opportunity by providing the means and access to self-generated development practices among communities. For more information, please visit www.wellbeingfoundationnig.org http://www.wellbeingfoundationnig.org/ .
The World Bank
The World Bank is a vital source of financial and technical assistance to developing countries around the world. Our mission is to fight poverty with passion and professionalism for lasting results and to help people help themselves and their environment by providing resources, sharing knowledge, building capacity and forging partnerships in the public and private sectors. We provide low-interest loans, interest-free credits and grants to developing countries for a wide array of purposes that include investments in education, health, public administration, infrastructure, financial and private sector development, agriculture and environmental and natural resource management. The World Bank, established in 1944, is headquartered in Washington, D.C. We have more than 10,000 employees in more than 100 offices worldwide. For more information, please visit www.worldbank.org http://www.worldbank.org/