Slap me, I slap you man no go vex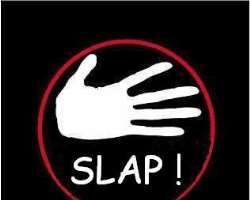 It appears that slapping days are yet to be over in the National Assembly. Last week, several slaps exchanged hands. A male Rep member who slapped a secretary had the shock of his life as she replied him double fold.
A slap for a slap, you may say. Trouble was said to have started when the Rep member went into the office of a lawmaker friend. The friend was not around. He subsequently demanded to use his friend's rest room. The secretary explained that her boss had given strict instructions that in a situation whereby snakes are now being found in lawmakers' toilets, no one should be allowed into his office in his absence, not to mention his rest room.
The lawmaker however felt insulted and made to force his way into his friend's rest room. The secretary was said to have locked the door to the toilet. This annoyed the Rep member who immediately gave her a resounding slap. Without wasting time, she replied. Thereafter, all hell then burst loose as the squabble almost degenerated into a brawl. Thankfully, other well meaning aides in the office intervened and saved the day.
However, the secretary, I learnt has been reported to her boss and the honourable member who was slapped has promised to ensure she loses her job. Though some ardent Christians in NASS are saying the secretary did the wrong thing by not turning the other cheek, others are hailing her courage to face up to what they termed "oppression." The slapping culture which was popularised by Hon. Chinyere Igwe, who successfully pasted slaps on the hapless visage of a NASS security man sometime ago, seems to be catching on really fast. Instead of arguing, people now seem to prefer slapping sense into one another.
Any act, speech or mannerism that seemed out of turn may now earn a deserving slap. So, people are now learning to be civic to each other to avoid a "slap me I slap you" situation. However I will bring you the follow up of this story as the events unfold.
Story by http://nollywoodgists.com