I am going into torch manufacturing — Zakky Azzay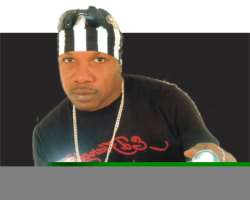 When he set out professionally as a musician, his unique torch- bearing style stood him out instantly among the crowd. While some of those he started the journey with have fallen by the way side, 17 years down the music scene, Zakky Azzay is still standing and is releasing his eighth album entitled speed and also venturing into the business of torch manufacturing. In this chat with AHAOMA KANU, he talks about his upcoming album and his plans and inventing the Zakky Azzay torch light.
Zakky, what's this much talked about project you are about to launch?
It's my new album launch; this is my eighth album and I have had like three hits with the album so just felt that it's high time I release the album. I first released a song called Nakwasa like seven months ago; I also released another entitled Lagos, a song about Eko Ni baje and everybody likes that. Right now, you can call two stations and they will let you know that my song is number one in virtually all the stations in Lagos; absolutely all the stations in Abuja; the song is entitled Catch Fire . I think it is the right time for me to bring out the album.
I understand that the album title is Speed, why that kind of eccentric title?
I called it Speed because I want to start dropping albums every 15 months unlike every two years that I have been releasing albums. That is what I mean by Speed; my fans will be hearing my music, new songs in close succession and more often than they used to.
How many songs are on the album and what should your fans be looking out for?
I have 14 tracks on the album and my fans should expect pleasant surprises which have been the case anytime I come out with a new album; I have never dropped any album that my fans feel indifferent to. They should expect the unexpected.
I understand you have a lot of collaborations with some artistes, can we know some of the artistes and why you chose them?
Well, Eldee the Don is a friend of mine since he was in Tribesmen; we have been friends and have discussed together to do a song a long time ago. He is a humble and wonderful guy and I personally think he is a great artiste. I respect more of your attitude than your artistic work; if you have the right attitude, you will go a long way in this industry. Eldee has all that. So when he came to me and said let's do a song, I quickly wrote a song and we did that. I did a song with Adewale Ayuba also who I see as a legend; I like Fuji music a lot even though I don't understand what the lyrics says. I had always been looking forward to doing a song with him and I called him and told him of the prospects and wrote a song to that effect and we did the collaboration. I also featured Obiwon who my wife is a fan of. My wife was actually the one that has been disturbing me to do a song with Obiwon and I did hoping that he would not snatch my wife one day (Laughs). I also featured Sache, Peacemaker and Nneka who are upcoming acts.
The album is coming in a matter of weeks, who are you expecting to be there?
Well, my host is the Governor of Benue State, Gabriel Suswan, the Deputy Governor of Plateau State; the Senate President is the Father of the day, The Attorney-General of the Federation, Mike Aondoakaa, Prof. Dora Akunyili, Senator George Akume, The EFCC Chairperson, Mrs. Farida Waziri, who I hope will not stop people from bringing out money; The DG of NAFDAC, Paul Ohie while Chief Rochas Okorocha is my Chairman, Aisha Babangida is my special guests with Mohammed Abacha.
The list consists more of politicians and public office holders, are you trying to go into politics?
A lot of musicians will also be there; MI will be performing, Faze will be there, Timaya, Comedians like Basketmouth, Gandoki, Julius Agwu, Ali Baba, Maliki and a lot of other musicians are expected to be there. Talking about going into politics, well I don't know but I am not striking that out.
A great number of your expected guest list hail from Benue State, does that show how you are well accepted there?
I will say that I have achieved a lot in the music industry so that is why they are gathering for me. In the whole history of the Tiv people, I am the only one that has gone that far; I have been singing for 17 years and it's not a joke. I think apart from Bongos Ikwe, I don't see any musician that is as old like me in the industry. I have paid my dues and have been an ambassador of the Benue people. So I think they want to give honour to who honour is due.
You are from the same state with Tuface Idibia, I am wondering why you have not done a collaboration with him so far?
The truth is that Tuface Idibia is very difficult to get because of his schedules; he is a very busy man. I have approached him a number of times for us to do something together and he is always busy but then, we are still talking; we want to do a song that will be in Tiv and Idoma for the Benue people and I believe strongly that it will be done very soon. I was hoping the song will be in this album but Tuface is very busy and that's why you don't even see his name in the list of the long chain of dignitaries coming for the launch.
We all know how strong the network of the Alaba Boys is and the menace they are to artistes that many artistes are becoming very creative in their distribution strategy, what are your plans for the album?
I have been talking to some marketers to come and bid and to me, let the largest bidder win the deal to market the work.
You have been in the industry for 17 years now but I look back and can't remember you ever winning an international award or recognition like we are seeing being achieved?
Well I have high hopes that that award will come very soon; I don't know. In life you just do your best and let God do the rest, I am working very hard. I was just presented with a Legendary Award from PMAN last week and have won a lot of awards though not internationally but I am hoping that one day it will come. But I am happy when I look around the industry today; most of my mates that I started this profession with then have gone down and I am still standing for all these years. I am really happy.
What have been keeping you standing?
I think it is my uniqueness, my creativity but most especially, the grace of God. I just don't like doing what everybody does, I stand out, everything that is common is cheap and you have to have a pride; you can see that from the way I act, to the way I dress, the torch lights are all unique. Even the torch lights is big business for me now because I want to go to China and produce my brand of torches and flood it in the Nigerian market. It will be called the Zaaky Azzay Torch and all my fans will get it free but if you are not, you have to buy.
Story by http://nollywoodgists.com