ABIODUN KUKU,FUNKE FOWLER'S SPEND HONEYMOON IN ATLANTA,USA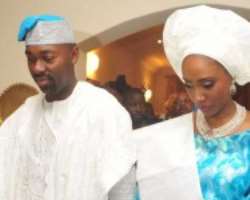 Just wedded couple,Abiodun and Funke Kuku are at the moment having a blast.They are spending their honeymoon in Atlanta,Georgia,United States of America,a week after their colourful final wedding in dubai,United Arab Emirates.
We were duly informed that the likeable individuals spent few days in Dubai after their high octane wedding and jetted out only few days ago to Atlanta,Georgia,USA.
According to our source,they may stay there for two weeks.
The high profile wedding ceremony between Abi Kuku and Funke Fowler began with the introduction in June 2011 at the bride's grandmother's house in Dolphin Estate,Ikoyi,Lagos.
The engagement on Saturday,October 29,2011,to say the least,was elaborate.The engagement assembled a full list of who is who in the social circle-and now the much talked about wedding in Dubai finally held amidst pomp and ceremony.
click the link below to go to...
HOW LAGOS TAX BOSS PAINTED DUBAI RED WITH DAUGHTER'S WEDDING