My Journey By Amina Jibrin (Model)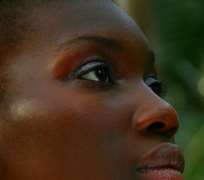 The MTN LFDW was a first-time experience for some,while for the others it was a stepping stone. The models say it was an experience and a half, for some it was difficult and for some it was the usual routine. They lived, laughed and learnt together…. They share their individual experiences with SHF.
How did you hear about the MTN Model of the year competition?
The information got to me through my cousin,she applied for the young entrepreneur category.
How has the journey been right from the auditions till the very last day?
The journey from the audition till the final day has not been easy at all because i left for school immediately after the first photo sessions we had in Lagos and coming back for the final competition was a probability.I was already in school but I had to come back to Nigeria because this is something i really want to do.
Any previous experiences asides the MTN LFDW?
No. This was my first.
Please describe the runway experience at the MTN LFDW?
The runway experience was a scary one for me. It was my first time on the runway with people all around me. I almost gave up so many times but I tried to overcome the fear with the help of the other models.
If you were told to pick a winner amongst the other finalists asides yourself who would it be?
To be honest when I came down for the final competition and I saw how all the models were like sisters,it was not a competition anymore. I saw all of us as winners. We all had so much going for us,so I can't pick one person out.
Do you want to go into modelling as a career or part-time?
As part-time.
You met and worked with a lot of fashion insiders, how would you rate the fashion industry
It's really good; they should keep the good work.
If you were asked to do this all again, would you? If yes why? If no, why not?
Yes, I will like to do it again because it was fun and it will help boost my confidence,though not as a competition but as a fashion show.
Do you have any memorable MTN LFDW moments to share?
I have so many memorable moments, if I start writing them I don't think it will end soon. It was fun having different girls around and also the designers who were having their fittings. A particular day i wont forget was my birthday,the 26th of October. Instead of hanging out with family and friends as usual i was having catwalk rehearsals. I was so tired,immediately we got back to the hotel i dozed off! Later that day i went to see a movie with the girls. It was a different birthday.

This competition has helped boost my confidence, and I thank the MTN LFDW team for doing something this innovative. Please keep up the good work and im looking forward to the next LFDW,it will help so many young girls out there.

I want to say a big thank you to the MTN LFDW team especially Aunty Omoyemi Akerele and Oyinkansola Momoh.

Photo Credits: Persnickety Media,George Okwong.