'My Smile… that's my best dress item'----Charles Ujomu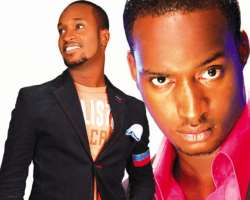 Blessed with a fine face, Charles Ujomu has a cute smile that gets everybody around him excited. The model, who is the face of Close Up toothpaste, hails from Ogwashi-Uku, Delta State. He attended Tade International School, Apapa, Lagos, for his primary education, before moving to Federal Government College, Odogbolu, Ogun State for secondary. The student of Industrial Relation and Personnel Management, Lagos State University, also anchors a show, Car Plus, on TV. Nominated for the Best Photogenic Model of the Year, at the Nigerian Models Achievers Award, he tells DAMILOLA ADEKOYA what fashion is to him.
Definition of fashion
It is what is catchy and classy with a little bit of style in it. It is what everybody accepts.
Style of dressing
I like to be a little bit edgy but simple, not too loud or flashy.
Family background
I'm from a polygamous home. We are eight in the family and I'm the sixth from my mum.
Uniqueness of style
I think it's my smile. I believe I'm never fully dressed without a smile. No matter how good I'm dressed, so far, as I'm putting on a smile, then I'm good to go.
Stylish Icon (s)
Internationally, I love David Beckham and locally, I feel myself when I'm dressed.
Role model
No one but Pastor Chris Oyakhilome, because some years back, when I lost my dad, I had problem with self-esteem and when I heard his preaching, I really got saved.
Describe yourself in three words
Hardworking, friendly and selfless.
Favourite colour(s)
Blue! It's very easy to combine and it reminds me of peace.
Most cherished possession
It's my mind because I put a lot into it. It is the greatest asset anybody can have.
Most expensive Item
It's my face, because that is what is bringing in money for me.
Favourite piece of clothing
I love waistcoats; it's really part of my dressing.
Favourite food
I love rice and beans, any day, any time.
Turn on
I love achievements. I like making money and breaking new grounds. It makes me feel real good.
Turn off
I can't stand lies. I do not like people that are not transparent; pretenders
Happiest moment
It was the time 10 other models and I travelled to South Africa for a Fanta TV commercial. I have had jobs through after then, but maybe because it was my first, it really comes to my mind every time even it was five years ago. It was really very memorable because it made me believe so much in myself.
Most embarrassing moment
It was when I was seven years old and I asked a girl to marry me. She actually said yes but from that day, we didn't talk to each other again, and we became couples that weren't talking to each other.
Projection into the future
I see myself on the international ground being so big in the industry. I also see myself owning a registered advert company.
Philosophy of life
I don't believe that because I look good, then I can have an advantage over anybody. The only advantage I have over any other person is my mind. God gave us equal opportunities, but the way we use it differs.
If you were given a chance to change something in Nigeria, what would it be?
It would be the government. They should be more transparent and more people-oriented. They should try to get foreign ideas and not to be stereotyped. Our rulers travel out of the country and they see what happens in other countries. It doesn't take them a dime to also apply such ideas here.
Story by http://nollywoodgists.com