Meet the babymamas in TUFACE IDIBAS life!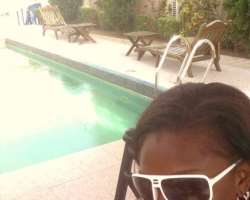 These three ladies are beautiful alright but they sure have got liver....competing for the heart of our beloved crooner innocent idiba.
unbelieveable as it may seem,pero and sumbo both got pregnant with their second babies almost at the same time and just when we thought tuface wad done with dropping his semen all over,annie hopped along,pregnant again for the second time.
All the children though,look like innocent no doubt.
Heres how it goes.
Pero-one girl,one boy
Sumbo-two boys.
Annie-one girl.
Pero is in her 30's and is into bizness which brings in cash.
Sumbo works in a bank and is in her 30's
Annie is a student/actress and is in her late 20's
which baby mama looks best?
Stella DK
Story by http://nollywoodgists.com