HRM ADEDOKUN ABOLARIN: I WANTED TO RUN WHEN THEY NAMED ME KING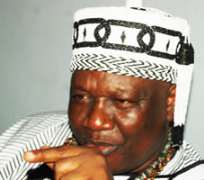 ADEDOKUN ABOLARIN
Your Majesty, you've been on the throne for five years now, how has it been?
Beautiful. It's a different ball game entirely. It's not an elitist background. It's not like scenic Abuja or bursting Lagos. It is rural. It's grassroots, with a different set of aspirations and values and what have you. But if you manage the people at the grassroots very well, they are very good people. That makes the whole thing very interesting. It is a people-centered experience. It is a challenging but not insurmountable world.
What are the challenges?
One of them is the challenge of moving from city life (of Abuja and Lagos) to a very quiet, rural, not expressive environment. What is more, there was no preparation for the institution I now occupy.
You were not prepared for it?
No. I didn't go to school to be a king. I went to school to occupy important political space either as a senator or, professionally, to be a powerful lawyer-lobbyist in Abuja. To be a highly influential lobbyist; to be among people who can make things happen. But we thank God for the way things have turned out.
During the first term of President Obasanjo, you were special adviser to the Senate President then, Senator Anyim Pius Anyim, who is now the Secretary to the Government of the Federation. I remember each time we spoke, you were always talking about life after the National Assembly. You were always saying you wanted to go to lobbying in congress. Suddenly the equation changed, you became king. I also remember that you were very reluctant when the move was first made to come and contact you about the Obaship matter. Eventually, how did it happen?
It does happen. Like I told you, there was no preparation for this position. It was so scary, you know, leaving certainty for uncertainty, building a career, and not understanding what it means to be a royalty. To be honest, people didn't know that I was a prince. And in terms of getting 'crazy' about the institution, I never did. As a matter of fact, I never liked monarchs. I just made fun of them, thinking that they were unserious people.
But why did not like them?
I just felt that it was not a serious institution. That was my opinion until I became a king. I never knew I was speaking from a position of ignorance, speaking from outside, as it were. Now, I can say with all confidence, with all authority, that it is the greatest institution ever. It is an institution that can be best used for the development of this great nation because despite the fact that it's a republican state, people are still cultural, especially, the Yorubas. To a very large extent, they believe and have utmost confidence in their monarch.
Their lives revolve round the king. The king represents the present, the past and the future of any community. The king represents the soul of the society till date because things revolve round the monarch. I see it in terms of development. It's a moral institution that should be tapped into for the development of this nation.
Unfortunately, rather than strengthen that institution, our years of democracy seem to be weakening it. What are the factors responsible?
Probably because people in government think that the traditional institution-the king, the monarch, the royalty-they probably they (monarchs) are in serious competition with them. And I tell my colleagues, fellow Obas, that it's not possible for us to compete with the political class because we are in a republican state and in terms of supremacy, supremacy resides in the constitution.
And all of us, most especially the people in government, derive their power from the position of the constitution. Be that as it may, things are changing. But my advice is that the two should complement each other. We must understand that we are in a republican state, and we should just complement what the government does. And that we should not be in any serious competition with them. Rather, we should complement the government in maintaining law and order in our various communities.
Do you not think that government will be better of in tapping into the potentials of in monarchs, being the closest to the grassroots?
Yes. Not only that, apart from being closest to the grassroots, the calibre of people that now become kings in all parts of the Federal Republic of Nigeria are well educated, and well connected. I think the government should tap into this. Very people think that many monarchs are partisan, but I tell you, it's not possible for any monarch worth his salt to be partisan. We are fathers to all and it is important for Obas to always respect any government that is in power because that is what the scripture says anyway. It is an institution that should be tapped into.
What must government do to put into good use the benefits that the royalty has, and can offer?
They should consider them with regards to their various experiences in terms of training. You have medical doctors among us. You have lawyers, surveyors, engineers, technocrats who retired as permanent secretaries and Generals in the Nigerian Army, to mention a few. Government should tap into them.
Do you advocate any specific roles for monarch?
No. I believe that you don't have everything written in the constitution, but many of us think that we should put everything down in black and white. Within the ambit of the constitution, there is freedom to associate. Within that same ambit, there are so many functions that a traditional ruler can perform. That I am in Lagos talking to you tonight, is that the constitutional provision? It's not. But I have the right to associate. I have the right to move around. I have the right of free speech. Within these ambits, there are so many things to be done to improve the lot of our people, derivable from the 1999 Constitution as amended.
Let me take you back to the very beginning, when the moves to bring you to the throne started. I remember way back in Abuja then, when you told me to pray along with you. What were your apprehensions at that point in time? Why did you resist initially?
Because I didn't know what exactly the institution was all about! It wasn't clear. There is also this aspect you see in Nollywood movies that kings are these, kings are that. But it is a great institution, an institution that is meant for development. And to take a cue from our forefathers, some of them used that institution for idagbasoke, development. Look at the various histories of our various communities in Osun State, or in the old Osun Division. Look at the roles of some specific monarchs in the old Ibadan Division, in the old Egba Division, not to talk of the roles that the great legendary monarch, the great Ooni of Ife, Oba Adesoji Aderemi, played between 1930 and 1980 when he joined his ancestors.
Or the late Timi of Ede, Oba Adetoyose Olaoye, that legendary talking drummer who was able to promote the talking drum culture throughout the whole world. The institution of Obaship in Yorubaland, as in other regions in Nigeria, is a great institution.
Could the reason of your religion, as a Christian, be one huge consideration for wanting to run away in the first place?
I didn't run. I was apprehensive. I wanted to run.
Where would you have run?
I would have travelled abroad. I can live permanently anywhere in the world. But again, by virtue of my training, my background…
As a lawyer?
Not necessarily as a lawyer. My father was a community leader, my grandfather was a community leader, and my paternal grandmother was a community leader. So, it was rather difficult for me to run away from service. I believe the greatest thing that any human being can offer humanity is service. I thank God that I eventually accepted to be the king of my community because it's a call to service. And it's interesting with all its challenges, anyway. It's not all bed of roses. There have been moments when you have to be lonely. Very lonely.
Even Kings can be lonely? With all the Chiefs, all the people in their courts?
Of course, yes! Kings can be lonely. Very lonely. Power itself is lonely.
How do you mean?
Like when there are certain decisions to be taken, and you and your people, your chiefs, have deliberated and advised which direction to go. You will still have to re-evaluate the issue to see if the path you have chosen is in the best interest of your people. You are still alone to take that fundamental decision that will affect the people. But you are not lonely because the Lord Almighty is there to be consulted. During periods like these, my consultation rests with God.
Could this also be another reason why you resisted?
Yes.
I know you to be a devoted Christian, a member of good standing in the Seventh Day Adventist Church. Did you think that becoming a king would pollute or dilute your faith?
Exactly.
But what did you discover?
I discovered that it is to strengthen my faith; it is to strengthen my resolve to continue to be a builder, to continue to be a restorer, to continue to give hope to the poor as stated in the Bible. Look at the book of Isaiah 58: 10-11. It states our position, our responsibility to the poor. We have abandoned the people at the grassroots. So, I see it as a way of strengthening my faith in Christ, in God, because the teaching is for us to be selfless; the teaching is for us to take care of others; to take care of others before self.
And the only way by which we can develop Nigeria is to be selfless, but to a large extent, very many of us are self-centered. Hardly do we think of the poor. Hardly do we think of the weak. That's why we have this maddening attitude of amassing wealth, primitive accumulation of wealth, whereas we should always rule over our wealth even after we might have gone, in terms of estate. What are the provisions in your estate for those coming after you? Hardly do we think of the future.
It is so sad that most of our people only think of the present. It's a society where the future is not important, where leaders and the people take recourse to the past. Yet, for you to have a glorious future, it is important to think of the challenges of the past, build on the present and then take a leap into the future. It is that future that is so important. We are talking of the next 70 years, we are talking of the next 100 years but hardly do we take time to ponder on these things. We just want everything done in a jiffy. Immediately. You don't build a society like that. That is why many of us are so selfish.
We only see things from the selfish perspective of 'what is in it for me now? What can I get now? If I cannot get anything now forget it!' But that's not right. That's not fair.
As a paramount leader, you superintend all aspects of culture of your people, traditional rites and all that go with it. And you are a strong Christian. Isn't there a way one could hamper the other?
No. The book of I Peter 2:17 says, 'honour all men', not some men. So, as a monarch, as a father to all, if this is what you believe in, it's my duty to honour you. I have the right to honour you. But apart from being a monarch, and a Christian, I am a democrat.
And all democrats appreciate the aspiration, the thinking, and the values of others. And that is what my bible tells me: 'honour all men,' and again 'love the brotherhood; fear God and honour the king.' So, while doing all these things, while honouring you for what you believe, while appreciating the brotherhood, I must not do that at the detriment of my fear for God. I must fear God. I must not do anything that will make me lose focus of fearing God, or not putting my trust in Him.
Would that honour, i.e. honouring all men and their beliefs - would it include or exclude active participation in the processes involved in this aspect of our culture?
I must honour them. But again, culture is not static, culture is dynamic. If you look at some of the things that our forefathers did, they are not applicable any longer.
Like what?
For instance, like some of our forefathers did, if I tell you that Mo Gbese le (I commandeer) this beautiful lady going in front of my palace, you, in fact, people around will tell me that, Kabiyesi, e gbese kuro nibe (remove your staff from her) or they go to court. As a lawyer, I have to be very careful and mindful of what I do. Because, all of us in this Federal Republic-the executive, the legislature, the judiciary, and all Nigerians derive their powers from the constitution.
So, I wouldn't like anybody to just disgrace me. But in terms of regard, in terms of respect, our people revere the traditional institutions. Our people have implicit faith in the constitution. Our people have love for the Obaship institution. Even people in the academia, the intelligentsia, the kind of support they give is unbelievable. They have high regard for the institution, but it's an upright monarch they are looking for.
As a monarch, don't you think that your position could get you involved in things that could contradict your Christian principles?
Like what?
Like your participation in traditional rites?
Such as?
Like sacrifices…
(Cuts in…) I participate in my cultural activities and I have seen the beauty in the philosophy, in the culture of our people. Take for example, my Isinro of Oke-Ila Orangun and Ila Orangun people. It's the festival of the Orangun. The rate at which we don't speak good Yoruba is very scary. Our children don't speak the language any longer. It's scary, and you find out that you cannot talk about a people's culture without the language. That is why the Yoruba language is so important to all of us. We have to go back to it.
It's getting worse by the day, Kabiyesi. It's so terribly that if a couple has a child today, the first thing they will most likely say to the baby would be in English language. If possible, they want the child to start speaking English from Day 1. How do we reverse this ugly trend?
It is just for us to believe in ourselves. That is the problem with almost all of us. We don't believe in ourselves. The goodness of a typical Nigerian, very many of us don't share in it. I am always happy anytime I travel outside Nigerian in my Yoruba traditional costume.
I stand out. I'm proud of my culture. I'm proud of this great country called Nigeria. And in terms of appreciation, people outside our shores appreciate you and almost everybody wants to have a snapshot with you. You are telling them more about your culture and you don't believe in it. That is why I appreciate our children now. Despite the fact that we failed to let them understand indigenous languages all over Nigeria, in terms of appreciation, they now appreciate the culture and the language better than their parents.
That's why the entertainment industry is flourishing. And that's why you see the beauty in our music now. When our children go to parties now, unlike in our days, from the blast of the music, they only listen to indigenous local artistes. I think that if we can replicate what we have in the entertainment industry, the music industry, Nollywood and what have you, in all other spheres of human endeavours in Nigeria, we would regain our lost paradise.
Look at the state of our education, it's really saddening. It is depressing.
There are some challenges, no doubt. But the notion that the only way you can get the best is to travel out of Nigeria is wrong. I have seen that at the local level. The beauty that we have at the grassroots is unbelievable. Take for example, my community, and I am not saying this because I am the Orangun of Oke Ila. The environment in my place is as if you are in Los Angeles. In terms of serenity, organization, that place can be a Camp David where you can go to discuss the problems of the country. It is a place you can go for serious retreat. Moving from there, you can go to the waterfall; you can see nature in its rustic form. It's not peculiar to my place alone, it's all over Nigeria. Sadly, we now believe that the best is outside the country. It's about time we believe in ourselves.
What are you doing to project all these potentials you just talked about?
We are doing a lot.
Like?
The government is trying to tap in to it, through private-public partnership. The government is doing a lot in promoting the tourism potentials of Oke-Ila Orangun, not here alone but also all the geographical zones of Osun State. The previous government tried too.
Five years on the throne, you haven't changed from your normal self, Kabiyesi (Your Majesty).
I am an extrovert. But as a King, there are so many things that you cannot say or do. For instance, I cannot, and must never be seen to be jumping around trying to organise people. This is something I used to enjoy a lot before I became King. Now, I have to maintain the comportment of a traditional ruler because in the Yoruba traditional system, in the community, I am an old man, regardless of my age.
When aged people come to the palace, they ask, Baba Nko? So, I am now Baba. According to tradition, I am the oldest man in my community. I am the repository of knowledge in my community. I am the conscience of that community. Again, that must be positively used. If we fail to use it positively, there is a curse. That is what very many of our leaders don't understand. If you amass the commonwealth of the society, and you are feeling well with yourself, there is a curse. I don't want to partake in that curse. I fear God.
You were talking about Isinro…
It is a 14 to 15-day event and the last day is what you call Ofin Odun, where new rules and laws are made for the following year. The Isinro is an Orangun festival, and it is to promote peace and orderliness within the community and without; it is to encourage entertainment, to promote brotherhood, love and community spirit, fellow feelings which should be applicable in modern time. When the chroniclers of history, that is the talking drummers, when they come out and chant the praises of my ancestors, when they come out with the talking drum to tell the audience that my ancestors had done good or bad, then I listen and ponder: when I am no more, what are they going to say about me?
It reminds and tells me that I am not going to be here forever. It reminds me that where I am sitting is just for a while. It reminds me that life itself is transient, and I think people in government should also understand that where they are now is transient. Again, hardly do we make recourse to the past. It's unfair. We do not celebrate our past. But my culture, my tradition tells me that I should celebrate my past.
When I read about the plight of Sam Ojebode, Olu Onagoruwa, then Dejo Fayemi, I couldn't help but shudder at the way we treat our heroes past. I didn't know Dejo Fayemi, but my father grew up to know him and his exploits in soccer. And these are people we want to consign to the dustbin of history. It is unfair. Not only in football or sports, also in all shades of human endeavours in Nigeria. I can tell you of great monarchs of the 20the Century in Yoruba land that we should celebrate.
Look at General Zaki, Samuel Akinsanya, present set of children don't know who this man was. It's not fair. The late Isaac Akinyele, the Olubadan of Ibadanland, from 1955 to 1964, or my predecessor in Ila Orangun, the late Oba William Adetona Ayeni, or the late Oluwo of Iwo, Abimbola, or the late Akirun of Ikirun, Oba Adeyemi, or the late Olokuku of Okuku, Oba Oyinlola, the father of Governor Oyinlola, or the late Timi of Ede, Oba Adetunyise Olaoye, these were people that laid down their lives for the people and their society. And you now say you want to consign them to the dustbin of history! It's not fair. That is why I am clamouring for a study of history in all our educational institution. It's very important. We should not forget our past because we have to motivate and prepare the young ones for leadership.
What are you doing in your own capacity to start this revolution?
I am starting a foundation, Orangun Abolarin Aroyinkeye Foundation, which would be, basically, rural-focused. It is to mentor young ones, prepare them for leadership, and provide support for the weak, especially the aged, in our society. Our retirees are not well supported. It's not fair, but it's not a thing that the government alone can do. I am not happy that ours is a society where we don't plough back.
I am not happy with our society the way we don't use our present wealth for the good of the future. For example, the super rich believe in stacking wealth for their children alone. It is rather unfair. How about the primary and secondary schools and the universities that we all attended? It is the little that we have while living that we should plough back for the future of our people.