INTEGRITY NO LONGER COUNTS IN NIGERIA -IGINI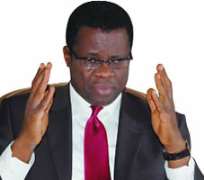 • Igini
The Cross River State Resident Electoral Commissioner, Mr Mike Igini, is generally known for his rigid stance on the rule of law and due process. Prior to his appointment as a REC he was always in the media speaking up against bad governance and injustice in the country.
As one of the electoral umpires in the country today, Igini no longer talks the talk; he now works the talk as far as conducting credible elections is concerned.
In this exclusive chat with Sunday Sun, he was his vintage self as he appraises various issues including last Saturday's Peoples Democratic Party (PDP) primaries in Bayelsa State. Excerpts…
The last PDP primaries in Bayelsa is now a subject of legal tussle with some lawyers saying the party flouted court order and others insisting it followed the new electoral law. What does this portend?
I have been on the issue of the need for internal democracy in our political parties even before my coming into INEC. My position has not changed because the issue goes to the root of democracy. It is not about specific cases of party nominations but the need for all to address this seemingly intractable problem. Dwelling on it case by case basis every time would amount to treating the symptoms of a syndrome rather than the disease. It is like treating opportunistic infections and ignoring the HIV virus, which made the body vulnerable to the infection in the first place.
You will recall that before the 2011 election, I specifically pointed out the danger of the amendments made to section 31 of the Amended Electoral Act 2010 as well as the removal of subsection 9 of section 87 that gave INEC some administrative control. Those who favoured or kept silence then became the first victims of their own law; over 50 per cent of legislators fell out at their party primaries with a lot of controversies and legal tussles. And from the vantage position on someone who understands the consequences of making executive policy that is loaded with moral hazards, I can tell you that it is early days yet for the victims of that clause.
The way political contest is decided within parties currently is simply a Hobessian struggle, and until we accept that they will need both internal and external controls, it will just be a vicious cycle of dog-eat-dog, in a civilized democracy. That is unacceptable; even those who are crying foul now as victims, have participated in victimizing others before, so going into specific cases is unhelpful, the problem should be solved at the root. For us at the Commission, we are concerned because it imposes implicit and explicit costs on the management of elections. Hence, as I said before, we must find both normative and descriptive answers that are acceptable to all stakeholders.
What is your take on the comment by the Chief Justice of Nigeria that the concept of plea bargain was dubious and does not have any place in the country's Constitution?
I want to believe that the CJN must have observed abuses in the use of plea-bargaining before taking such a step. Ordinarily, it should be a privilege on the part of the Law to offer someone a lesser sentence than they deserve because the law has found some mitigating circumstance. Therefore, when it becomes a conduit for defeating the ends of justice and a tool for political patronage, we will be approaching the Trasymachian definition of justice as a tool of oppression by the privileged rulers. The CJN is a living witness of what has become of Nigeria today due to unchecked corruption in high places including our constituency. Whatever he does to address the slide and the crisis of confidence in the Judiciary will be recorded and so shall he be remembered in history.
The State Security Service (SSS) has just arrested the Boko Haram spokesman who has named a serving senator, Ali Ndume as one of its sponsors. The senate has said it would stand by him until a competent court proves him guilty, what is your view on that?
Well, as a responsible member of the bar, l will not comment extensively on a grievous issue like this that has caused untold bloodletting in our country in the last few months. I think it is premature to make any comments on the matter at this time. As for the position of the Senate, I believe they are at liberty to take a position. Listening to Senator Abaribe on the television, he struck a balance between the obligations of the senate as a bastion of public policy and the fact that one of its members was alleged to be involved in such a serious issue. He spoke well that the law be the main arbiter.
The EFCC chairman has just been sacked. Do you think she deserves what has happened to her?
I do not have sufficient facts yet whether it's a case of completion of tenure, like those of my colleagues that were wrongly reported as being sacked whereas they only completed their legitimate tenure. I can only tell you that as a body that plays a very important complementary role in the stability of democratic governance by ensuring that we deal with evil of corruption and that the national ethical values are not trampled upon. Changes in the leadership of the EFCC are a matter of public interest. We shall know details in days to come.
The INEC chairman has condemned the idea of some governors running the local government with caretaker committee chairmen. Do you share his opinion?
The chairman is absolutely right on the state of affairs in the state electoral commission. State governments should not have any business deciding for the people who their leaders at the local government should be. It is a carry-over of military mentality and is the civilian equivalent of a coup. The power to hire and fire leaders at any tier of government is reposed only on the Nigerian people and no one else. The issue of independence of states electoral commission was the thrust of INEC/SIECs joint meeting at Enugu where we all advocated for the autonomy of the managers of elections at the state electoral commission in terms of how they are appointed, tenure-ship, and funding. We have put all these issues on the radar of all Nigerians that they should be addressed now. No doubt, I am on the same page with my chairman on the issue.
You have been consistent in advocating for free, fair and credible election even before your appointment as INEC Commissioner, what is your general and fair assessment of the 2011 elections?
Every assessment must be based on both objective and subjective measures of attainable goals achieved. In that sense, I will say that the 2011 elections is a vast improvement on previous elections, but with substantial room for further improvements so that election will continue to be a periodic moment used by the people to reaffirm their freedom as the only conferrers of authority on those who lead and more importantly, a time to elect those that the people believe would truly serve them.
The primary goal of INEC in conducting elections is to ensure peaceful transition of government at state and federal levels to the executive and legislative arms through the ballot. While some were re-elected, others were not, and in some cases new incumbents emerged. On the subjective assessment of acceptability, we are highly encouraged by the positive commendation of the last elections by the Nigerian people and indeed the international observers all of whom gave kudos to INEC under our able and most respected chairman, Prof Attahiru Jega. We are also not carried away by such praises, instead we are mindful of, and indeed have taken very seriously complaints of Nigerians over some aspects of the electoral processes such as alleged unwholesome practices at results collation centres. We recall the outbreak of violence in some parts of the country, some took their grievances to the courts and the outcomes of some of those cases are still in the realm of judicial decision processes. Therefore, a final assessment will only be made when the tribunals and the on-going INEC in-house auditing shall have been completed.
It has also been reported that a number of INEC officials like you have been sent out of the country to visit other countries' electoral bodies to share experiences. What are your observations and lessons from these countries that would be useful to Nigeria?
Indeed, INEC officials conducted some study visits to other electoral bodies to share experiences on processes and practices. I was privileged to be part of the delegation to South Korea Civic Education Institute for Democracy. Some principal lessons were learnt from Korea such as the importance of early voter education and its consolidation from cradle to grave. This is to re-enforce the notion that democratic elections are an affirmation of the freedom and democratic rights of the Korean people; the unique nature of the appointment of the leadership structure of the Election Management Body (EMB) with nine commissioners, three nominated by the President, three by the legislature and the other three from judiciary.
These nine nominees choose from amongst themselves a national chairperson who is often from a judicial circle. We also observed the importance attached to debate by candidates to expose their policy agenda to voters and how two sub-commissions within the EMB are instituted to manage such debates, the stratification of several layers of commissions to manage election at different levels of governance; and the seamless planning for the execution of elections management with local logistical infrastructural supporting facilities.
From your experience, how correct is the saying that an independent and impartial INEC and Judiciary are the only guarantee for free elections and sustainable democracy?
Truly, it is an incontestable truism that an impartial INEC, the Judiciary, and I must add security agencies; a committed media as well as an aware and responsive electorates are the key guarantors of free elections and sustainable democracy. In this regard, I will take the issue from the Structuralism-Human agency or element debate to which I referred in my initial interviews upon accepting this appointment.
There has been a scholarly debate in sociology and human development literature that human progress is either occasioned by the proper structures in society or the impact of human factor. I am of that school of thought, which avers that while the right institutional structures are important for social progress, such structures also decline or rise based on the nature of people appointed or brought to bear upon the structures to animate their usefulness to society. For progress to come to any society, a given generation must not only set out to define the type of progress they aspire to, but also align this with the right structures and more importantly animate the structures with the right set of people who are committed to public good and not those who see such positions as avenues for money making and acquisition of personal fortune.
We have been conducting elections in this country with the wrong outcomes on many occasions largely because of the betrayal of public trust by those entrusted with such sensitive national assignments. We should continue Electoral reforms to change the structuralism of elections and appoint people of proven integrity and unwavering commitment to democratic ideals into the INEC and SIECs. The outcome of several years of unbridled corruption and election manipulations have been several failed Republics and many steps backwards for all of us. Now is the time for a paradigm shift, and I am glad to say that in the Commission, there are willing civil servants who are ready to make that paradigm shift, but most importantly, I'm privileged to have a forthright team leader in the person of Professor Jega who has stayed the course and has provided the type of leadership that is needed to meet the desired electoral changes and the demands of our time.
Would you say that INEC as presently constituted has been free of interference particularly before and during the preparation and conduct of the last general elections?
By interference, I take it to mean undue hindrances and influences on the activities of INEC. On record today, unlike the long history of interferences by way of outright manipulation of elections either by the departing British colonialist in 1959 and the subsequent elections under military and civilian regimes, President Jonathan now has the singular record of being the first sitting president ever and a participant in an election that did not interfere in any way with election to determine the outcome to his benefit and that of his party.
This is quite exemplary in the history of the conduct of elections in our country. I hope we will build on this and maintain this record. Also, given that INEC is a public service agency that interfaces between the people and the political elite, I would say that there are very strong stakeholders' effects in the management of elections. Moreover, given that elections are basically about political contests for power, every group would like to take advantage of any edge they can leverage upon and that is why election managers should command the confidence of contestants and electorates and must be above board to ensure that a level playing field is assured for all stakeholders. To do this effectively, the election manager must in all instances follow the law and the election processes and not the contestants. Regarding instances when political groups have tried to bend the rules, my experience is that, when you stand firm and let them know that the rules are there to be obeyed, that it is in our best interest to obey laid down rules for the growth of our democracy, they have no choice but to conform or face the consequences.
Thankfully, I had the full support of the Commission under our chairman, Prof Jega who never wavered when it came to matters of verifiable truth and principle. If there were outside influences, it never impacted on our work because of his steadfast support.
What is your assessment of State Independent Electoral Commissions (SIECs) and the elections conducted in the Local Government Areas (LGAs) so far in the country?
As we have all observed and as I also pointed out at the Enugu joint meeting of INEC and State Electoral Commissions of the 36 states, although, a number of well respected men of proven integrity like our chairman, head these bodies but regrettably, the state governments do not give them the freedom to perform their duties as true umpires that they desire to be. Budgets of SIECs are usually not released as and when due, which of course is an instrument of control. State executives often give orders on when council elections will be conducted, disregarding extant state electoral law stipulations or the drawn up plans of the state electoral bodies.
The result is that SIEC conducted elections have become rituals enacted at the pleasure of state governments, the 36 states are now conquered territories of the respective parties in control where no other party can win council elections. If our democracy must have foundation, it has to start from genuine elections at the local government system. That should be the foundation that INEC should build on in its conducted elections. Hence, now is the time for all stakeholders to engage lawmakers to make SIECs truly independent and not render state electoral chairpersons mere overseers of monthly overheads.
What has been happening in the local governments in the name of elections over the years now is rather unfortunate.
Nigerians appear to be losing hope and faith in the judicial system; do you think the judiciary has lived up to expectation on matters of elections in this country?
As a lawyer, I am unhappy with what is going on in the judiciary. I would not want to pass a blanket judgement on the judiciary because we still have very upright judicial officers committed to doing justice. As it is the case with any institution, when there are bad eggs, they foul up the whole system and drive the deeds of the good people to the background. But, I will be pretending if I say that I am unaware of the funk of maladies now permeating my constituency, the judicial arm. I have even heard political stakeholders who have vowed that they would rather go and die at the battlefield of elections than to leave their fate in the hands of Election Tribunal judges. Some have claimed that to succeed in the courts on electoral matters, they may need to spend sometimes four times what they expended on elections to ensure that Judges give favourable judgement.
Do you know that with a very committed judicial system complimenting INEC, there will be no hiding place for electoral bandits in this country? How do you feel when the same people that violate our electoral laws are the ones that usually challenge their opponents to go to court and even boast that they are the ones in charge? I'm worried and frightened by the daily loss of confidence by Nigerians in my constituency. It's hard to imagine that our judiciary is one that is being spoken of in this manner. Frankly, I am sad and pained that my constituency is now regarded as the weakest wing in the line of defence of wishes of the electorates in our fledgling democracy; very sad indeed. Regrettably, lawyers are neck deep in all that has gone wrong with the judiciary to the extent that the public now see us as part of the problem of the country.
Who are the role models today in our country? We do not have role model because of the quest for money. Today a lawyer is on one side defending a client against unlawful exclusion from election; tomorrow the same lawyer with appropriate legal fees goes to the other side to justify exclusion as legal and constitutional. A lawyer should use his legal knowledge to serve society by upholding its values and not queue up behind those who devalue our collective existence. Why is it that we pretend to condemn corruption yet every time you see Economic and Financial Crimes Commission (EFCC) or Independent Corrupt Practices and Other Related Offences Commission (ICPC) take ex-public office holders to court over alleged theft of billions of Naira, you will see the ''leading'' light of our profession in large numbers to represent them essentially to exploit the law to stall speedy trial but on the side of the EFCC you will not see such 'calibre' of representation? Indirectly, people now use their special or noble calling to have their own legitimate share, so to speak, from what has been taken away illegally from public till.
The legal profession is not just an occupation to earn a living; it is a profession that has a special relationship with the society in terms of its defined core values such as trust, the basis of which lawyers are engaged to represent those who seek justice not only for the plaintif and defendant but also justice for the society that its laws have been violated. I am shocked that those who know the implications of the erosion of confidence in the judiciary are unmindful of the potential embrace of anarchy by a society that perceives the judiciary as 'the tool of a powerful few.'
Corruption remains a cog in the wheel of development in Nigeria; the new CJN has just issued a timeline for the conclusion of criminal trials. What is your assessment of EFCC and the ICPC in the fight against corruption?
The new CJN's order is a welcome development as justice delayed may also be justice denied. Some politicians take the power of incumbency to bring the heavy weight of public resources to bear on the processes. Despite the challenges and shortcomings in their operating environment, the EFCC and the ICPC have been able to remove the perception previously held by a group of corrupt politicians that corruption can go on unabated without any consequence. That perception has been the pitfall of all the failed republics that we have had previously. The problem today is not that of EFCC and ICPC but that of the courts where trials are to be conducted. Just look back at all the cases that have been taken to court involving, particularly, ex-governors, you will see how those I have referred to earlier as leading 'lights' in our profession, worked so hard to stall trial through plethora of preliminary objections either on jurisdiction or on very flimsy and inconcievable grounds just to prevent commencement of full trial.
Again, our fight against corruption appears targeted at ex-governors yet we have people who have held offices at the local governments and at the federal level as ministers. We should be holistic in our approach because we are all victims of the debilitating effects of corruption and how it has sapped the soul of our country yet some folks out there are doing everything to shield corrupt officials from facing the law. It's a sad reality that we appear to have accepted corruption as an article of faith in our country.
Our value pyramid is now upside down with dishonesty and corruption on top. Honesty, integrity and good name no longer count in our society but what matter most now is money no matter how one made it. Those who provoke our sense of probity and accountability in both private and public life are now our country's role model. It's unfortunate.