FG Will Support Diaspora Vote In Future Elections - Jonathan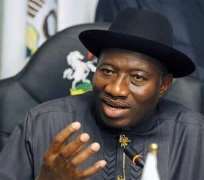 SAN FRANCISCO, November 25, (THEWILL) - President Goodluck Ebele Jonathan pledged Friday in Paris that his administration will do all that it can to ensure that Nigerians in Diaspora are able to vote in future elections.
Speaking at a meeting with representatives of Nigerians resident in France and the United Kingdom, President Jonathan said that the Federal Government will initiate talks on the issue with the Independent National Electoral Commission and other relevant bodies.
The President said that he fully believed that Nigerians living outside the country should have the right to participate in the election of persons who run the affairs of their home country and that everything possible should be done to ensure that they are able to exercise that right where they live.
Noting that Nigerians from the Diaspora were already well represented in his administration, Jonathan said that he will continue to count on the contributions and support of Nigerians within and outside the country for the successful implementation of his Agenda for National Transformation.
"We need people with experience at home and abroad to make contributions. When I interact with world leaders, they always say that Nigerians are a fantastic people. Everywhere, the leaders say that Nigeria has great human resources.
"What we need to do is to provide the enabling environment at home so that people can be encouraged to come back home. That is why we are working on security, power and other issues," he told the gathering.
President Jonathan thanked the Nigerians living in France and the United Kingdom for traveling to Paris to meet with him.
He assured them he will continue to work diligently to fulfill his promise to significantly improve the living conditions of Nigerians before the expiration of his tenure.