I need smart Nigerian girl as wife – Eric Monjoin, Heineken TVC star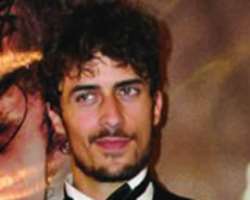 He is Heineken Man of the World and actor in The Entrance, the world acclaimed Heineken television commercial. Apart from playing a cameo role in the Heineken TVC, Eric Monjoin had acted in a couple flicks. The young and handsome actor came to Lagos recently and was a star attraction at the Hat Trick event organised by the Nigerian Breweries Plc. Shortly after the occasion, Eric opened up. Excerpt:
Relationship with women
I am still single. When do I intend to get married? That's complicated. I want to have a family. I want to have children. Marriage, I don't know because to me, it is not as important as having children. I want to have a family. If you ask a girl what is more important to you, to get married or to have children? If she says to get married, then she is not for me. I want a girl who wants to have a family.
My kind of woman
I like women who are simple, smart, funny and feminine. When you are in a relationship, it has to be a team. I don't want to fight too much. I want a woman who would support me and I want to support her. I want us to be a team. I want her to be a good mother for my children.
It's not easy to find that kind of woman but I'm working on it. Maybe I will find such a girl who meets these qualities in Nigeria.