I WANT TO TAKE MAKE-UP BUSINESS TO A WHOLE NEW LEVEL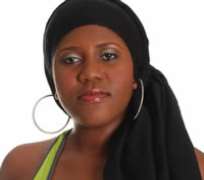 • Nene Batubo
Barrister Nene Batubo is young and very ambitious, For a beautiful lawyer, who graduated from the prestigious Benson Idahosa University, with a Second Class Upper degree, one would expect her to ply her trade, either in a law chamber or a multi-national company but her drive to express her innate passion has driven her into the world of glitz and glamour via make-up business.
Barrister Batubo is a Kalabari lady from Buguma City in Asari Toru Local Government Area of Rivers State. She is the C.E.O of Honey Luks, a fast growing make-up outfit, which recently relocated from the Garden City, Port Harcourt, to the Centre of Excellence, Lagos, in her bid 'to help re-define the beauty and fashion industry in Lagos.'
Honey Luks was established in December, 2010, in Port Harcourt.
When asked why she chose make-up, rather than law practice, she quipped: 'To be honest with you, make-up simply stole my heart. I am a very creative person. I like to use my hands a lot and I found out that law practice was not giving me the opportunity to bring out the creativity in me. I like to create things and see them come to life. I also love playing with colours a lot.'
For Miss Batubo to fully offer professional service to clients, in this new chosen field, she received thorough training from Sleek Nigeria in its Abuja branch. 'I have also done a couple of workshops with House of Tara and Forever Living Products. I did training with Ojuloge Art World in Lagos. I went through all these to gain a first hand experience in the field. In Sleek Nigeria, I did Bridal and Fashion make-up training. At Ojuloge, I concentrated on Fashion and Runway make-up. I am also self trained. I have done a couple of foreign tutorials and all that in regards to runways make-up.'
When asked why she decided to bring her business to Lagos, she replied: 'Because I want to expand. I feel that Lagos holds the challenges that I yearn for and the market that I aim to conquer. I want Lagos to feel my creative abilities. I want to take the art of creative make-up, to a different new level.'
Honey Luks offers make-up support for photo shoots, magazines and Runways. 'We work with fashion designers. We also make up celebrities.' The company operates from the premises of Deborah Lawson's Events centre, at Hotel Bus Stop, Omole main gate. She doubles as the manager of Deborah Lawson's Events.