Mimiko Emerges NUJ Governor Of The Year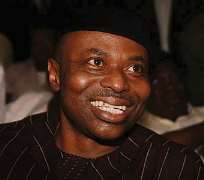 SAN FRANCISCO, November 24, (THEWILL) - The apex body of the pen pushing profession in Nigeria, the Nigerian Union of Journalists has nominated the Ondo State governor, Dr Olusegun Mimiko as the beneficiary of its 2011 Governor of the year award.
A statement announcing the governor as the body's choice for the prestigious award was signed by the National Secretary of the body, Shuaibu Usman Leman.
He said the nomination was arrived at after a careful consideration of governor Mimiko's contributions to the development of the nation in the past year.
The award is expected to be conferred on the Sunshine state's helmsman in December.
Meanwhile, Governor Mmiko was decorated as Fellow, Society of Gynecology and Obstetrics in Ibadan, the Oyo State capital yesterday.
This is sequel to what the body said it considers as the governor's exemplary service and innovation in the area of Child health delivery especially as it affects mortality.
Only last week in Akure, the governor was conferred with the honorary Doctor of Science by the Federal University of Technology Akure (FUTA).
The Honourary award was conferred on the governor based on what the school's Senate called governor Mimiko's contribution to the development of the country through his innovative delivery of the dividend of democracy in his governed state.
The School Senate was particular about the effort of the governor in reducing unemployment through his innovative agricultural and technological programs which has made many jobless graduates in state gainfully employed.
His efforts in the area of Education were also mentioned as one of the criterion for choosing governor Mimiko for the Doctor of Science award.
Particular mention was made of the Caring Heart mega schools in the state meant to bridge the gap between the poor and rich children in the state as far as acquiring qualitative education is concerned.