Political leaders lack Spiritual guidance – Bishop Dawn Willis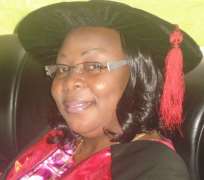 In a clergy world dominated by men, one woman stands out in the whole of Uganda. Bishop Dawn Willis originally hails from Edo State, Nigeria but she has settled in Kampala, Uganda for nearly two decades now where she is a minister of the gospel.
She is the first ordained female Pentecostal Bishop in Uganda; her position draws people close to her for different reasons. To many she is the woman they call 'mama'; to others she is tough. She loves to talk with people and help people and talk less of herself. She is graceful, humble, neat, beautiful, and amiable; her warmth instantly draws you closer to her radiant face. Behind all of these compliments, she is a strict disciplinary her congregation would tell you.
She is a woman of many parts, the Founder and Presiding Bishop of a flourishing Christian Church organization in East Africa, the Cornerstone Dominion Cathedral Churches with headquarters in Kampala, Uganda. She is also the founder of the Bishop Down Christian Foundation; the Director of Cornerstone Dominion International school of Ministry, an international school of Ministry equipping men and women for the work of God and Dominion Vocational school, a non-denominational Institution that trains people from all walks of life and admits students from all religions for the purpose of demonstrating the love of Jesus Christ to all people. This school offers various courses in computer training, Catering, Arts & Designs, Guidance and Counseling, Candle making and Hair dressing.
My visit to her church premises office gave me the opportunity to see other parts of her; men and women of God queue around her to see this bishop. She is a mother of three beautiful kids (two daughters and a son). In her office is a collection of several awards, both locally and internationally, she has written several books to inspire people to read and achieve their utmost potentials. She is a lady with a big heart; she has overcome many challenges including undergoing a surgery to remove a cancer tumour and her swift recovery amazed even her doctors, congregation, family and friends. She is a workaholic in true sense of it and when she finally sat down to talk to the Nigerianvoice.com.
Christians and church leaders in particular need to show a better example to the society, 'the society is lacking mentorship and that is contributing towards many social evils in our society today', Bishop Willis disclosed. She said that spiritual leadership is lacking in many governments of the world and for that reason, the saints need to pray more for the countries and governments.
When she was asked how she has been received as a female preacher and being in a foreign country. Her reaction, "in the beginning, the reception was not good most especially by the male preachers who felt threatened to see a woman preacher and they claimed that they did not believe in a woman minister. They fought with all they could to shut me up however over the years, they have learnt to accept and respect me and the hand of God upon my life. I am enjoying my ministry now and the people are lovable in Uganda".
Apart from running the Cornerstone Dominion Cathedral church, she also runs the Bishop Dawn Christian Foundation and she speaks passionately about it to us. "The story and the idea behind CDC International and BDCF are very dear to me. When I accepted Jesus Christ as my Lord and Saviour, my family rejected me and I actually was ostracized thinking I had gone mad especially when I prayed in tongue. I was left alone with no one to help me, no one to pay my tuition fees and keep me going at the university. I had to swallow my pride and roast groundnuts and plantain right in front of my institution to survive. It's by the grace of God that I did not end up in prostitution or bad gangs but went through school successfully. Today by the grace of God, I am a Doctor and I vowed that I will help those in need. It was out of this vow that a dream was conceived and after my consecration and ordination as a Bishop, my dream was born. The Bishop Dawn Christian Foundation was launched in Kampala Uganda, with a sole purpose of restoring a smile to the elderly, widows, orphans, the needy and the hurting particularly the girl child. So far, we are doing a great work not Just in Kampala but around East Africa. I hope I would have opportunity to show you around some of the projects we are running including a vocational school which has recently graduated some of our students".
Combining her activities as a bishop, founder of the foundation and a mother of many children has not been by her power or might. It has been by the grace of God. 'I have fully surrendered my self to God and to the leadership of the Holy Spirit who guide and coach me in what I should do everyday' she disclosed.
On her interest in the girl child; she told our reporter that it is born out of her personal experiences in life. "As a young girl, I craved for true love and honest care which was very much missing in a polygamous home. I refuse to prostitute myself for money or have affairs with older men but by the grace of God I survived it all. Today many girls find themselves in a position similar to what I went through and are forced to go into drugs and prostitution. I believe that in as much as I can, I will help the girl child from falling into such pitfalls of life".
Asked to advise young people reading her interview, she said the following, 'lean not on your own understanding but in all your ways acknowledge the lord. Trust the lord and commit your heart to God and he will fulfill your destiny. No matter how long it takes or how many valleys you have to cross. God will be your very present help in times of trouble. Also have a listening ear and a receiving heart as you listen to servants of God.
She personally paid tribute to late Archbishop B.A Idahosa, "he was my father and he impacted my life all spiritual values that has sustained me till today".
Interview by Elvis Iruh