Why have an affair? When my hubby's got all it takes---Mama T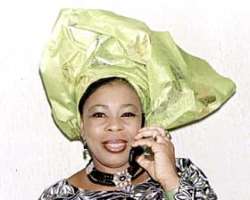 She's pretty, alluring and versatile. Her name is Toyin Adewale. A popular face when it comes to television series, Toyin is also a wave-making actress of Yoruba movie genre. She's one of the very few Yoruba cross-over actresses.
Starting off her career from the stage as a nursery and primary school pupil, Toyin shot her way to the top in the acting profession, a passion she describes as, "innate to her". In this engaging encounter, the screen goddess recounts her journey to stardom, her marriage and challenges of the movie industry. Enjoy it…
How long have you been acting?
Professionally, I started acting in 1988.
Did you observe any break during this period?
Yes, I had a break when I got married and started raising children. I had to stay off the screen for sometime, until my children came of age. Then, I decided to return to the screen.
Can you recall your very first movie?
I cannot remember exactly now but it was 'Irepodun' that actually brought me to the limelight. The film was from the stable of Korede films.
Would you say you have fared well in the industry?
It has been fun, stressful and sometimes challenging for me.
Challenging, you said?
Yes, I 've faced many challenges. For instance, there was a time I had no car to move around .
I remember I used to go by public transport to location. Even when you reach the location, you wouldn't get the required attention because of the fact that you were not a popular face.
A couple of embarrassments here and there. Even after achieving fame, you still had your fans to contend with. These were some of the challenges I faced when I started out. In spite of all, I'm still enjoying my profession.
How was it growing up?
I grew up in Isale-Eko,in Lagos Island. Growing up was very interesting, but I will forever remain grateful to God for my parents and the way we were raised up. If not for the kind of moral upbringing we had, I wouldn't have become what I am today. You know what it means to grow up on the Island.
You would be exposed to all sorts of people, and I happened to be the only child of my mother. My father had other children from other women. So, I had people around me while I was growing up. I had sisters, but I didn't have a brother.
Were you at any point harassed sexually?
I have never been sexually harassed.
What's your take on the reality of sexual harassment in Nollywood?
Some actresses say it has happened to them. But, I never experienced it. For me, I strongly believe that for most of them that have experienced it, it's as a result of the way they presented themselves.
I have never been sexually harassed; I think it's because they know that I'm married . And the fact that my husband is also in the industry makes it difficult for them to mess around with me.
How did you get into acting profession?
I would say it's inborn because I started acting when I was in the nursery school. When I got into the primary school, there was one of our teachers that told me I would excel in acting profession and make a name in future if I take a decision in such a career.Since then I developed interest in acting.
How supportive were your parents when you started acting?
They were not in support of my decision to go into acting. You know, they could not have bothered acting in school as a pupil. But venturing into it professionally,my parents did not like the idea at all, particularly my father. He wondered why I should choose acting of all the professions.
Unfortunately, he's late today, and anytime I remembered him, I felt very bad because I had wished he's around to tell the success story. But my mother is extremely happy to see me excel in this profession.
How many English movies have you to your credit?
I did only one movie titled, "Boomerang" produced by Seyi Oloketuyi. But, I have featured in several soaps done in English like "Papa Ajasco", 'Super story", "This Life",
'Another life" and "Eldorado" which is currently produced by Fidelis Duker.
In remuneration, would you say your counterparts in the English sector are well paid?
I don't know because the time I featured in one of the English movies, there was not much money then. But television series have their own standard of payment.
We hear that the English sector stars are well remunerated than their Yoruba counterparts.
How did you meet your husband?
I met him while I was in Rimax, a vocational school. We went to the same vocational school and he was a year ahead of me.
I met him in 1986, before he eventually secured admission to study at the University of Ife, now Obafemi Awolowo University, while I later went to LASPOTECH. That was where we met and one thing led to the other and here we are today with three lovely kids.
As a pretty woman, how did you resist male admirers' passes?
In fact, it's by the grace of God that I have been coping with the pressure. Really, it has not been easy at all, but I always make them understand that I'm married. My husband is always there for me, why keeping an affair elsewhere? He's caring, loving and everything for me so there is no point for me to look outside.
With a producer/director as a husband, has there not been a time when he's directing a movie with you on the same set, and following the role you are to interpret, required to smooch or caress a man in his presence?
As a versatile actress, I'm supposed to play any role. But for my husband, I will never play a role that will require me to go to the extreme. It's not as if I cannot interpret such roles but for God's sake, I am an African woman. I cannot do it.
Are you saying you cannot play nude?
For where? Not even for the whole money in the world. I cannot.
What is it about stardom that you don't like?
The fact that you don't have your privacy anymore is the only thing I dislike about stardom. You cannot go to a place quietly without being noticed or recognized.
At the same time, stardom has brought me so many good things. I have met people that matter as a star; personalities I never dreamt of meeting in my entire life. It has also opened many doors of opportunities for me. I am really glad I'm in this profession.
Do you have any role model?
I do have a role model, though I don't know where she's at present. I have not been seeing or hearing much of her in recent times.
Her name is Ene Oloja. She used to be on the now rested soap, Behind the Clouds. Joke Silva is another person I admire very much. She is not doing badly at all.
Apart from acting, what other things do you do?
I'm also into catering. I do indoor and outdoor services which make my social life very active. When I am not on set, I do my catering job and I enjoy it a lot
Story by http://nollywoodgists.com