2FACE RESCUES INJURED POLICEMAN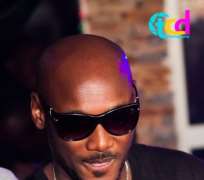 2face Idibia is in the news again but this time around he isn't receiving any awards or featuring on international talk shows or headlining any event.
The singer who is credited to singing one of the biggest songs to come out of Africa 'African Queen' recently played the role of a 'Good Samaritan' as he reportedly saved the life of a Police Officer who had been shot.
The story goes that 2face and a close friend, event manager Matthew Ohio at about 3AM left the Nu-Grotto located at 217 Etim Inyang Crescent, Victoria Island and were heading to the Southern Sun Hotel in Ikoyi, driving in the singer's Ranger Rover Sport through Muri Okunola Street when they came across a man lying down by the roadside.
Ohio who was driving says the pair decided to stop and find out what was wrong with the man. Upon getting closer, they discovered it was a police man and that he had been shot three times by – once in the hand, in the stomach and in the leg. 'He kept saying we should help him, he looked like he was in a lot of pain', Ohio who is executive producer of Industry Nite, the weekly event held at the Oriental Hotel in Lagos told Nigerian Entertainment Today in a telephone conversation.
It is believed that the policeman who identified himself as Corporal Ganiu had been shot just five minutes before Idibia and Ohio drove by. Ohio tells us that they had been alerted by security guards at Nu-Grotto but they ignored the warnings.
2face and Matthew then carried the bleeding policeman into the back seat of their vehicle and rushed him to the Reddington Hospital located at 12 Idowu Martins Street, Victoria Island (next to Mega Plaza) to receive treatment. The hospital staff were said to have been hesitant to attend to the victim until they recognized 2face who served as a guarantor to the officer. It can be recalled that 2face had also been rushed to the same hospital back in October 2007 when he was shot by robbers. 'I have a card here too o', 2face was said to have told the hospital staff.
'The story is quite true', says Don T, exec at 2face's management Now Muzik. '2face took him to Reddington which is his official hospital'. However, Don T could not confirm as at the time of this report if 2face settled the medical bills even though 'it's quite possible he did'.
We're told Corporal Ganiu has been transferred to the Military Hospital, Awolowo Rd,Ikoyi to receive further treatment and his health condition is said to be stable.
2face is sure not new to robbery attacks and hospitals as he has also had his fair share of horrific episodes. On January 12, 2005, he was attacked by unsuspected robbers at his residence in Festac Town, Lagos and in October 2007, he was also robbed and shot while returning home from the Muritala Mohammed International airport after attending the MOBO awards in London, where he was named best African act.