Shagari, Gowon Caution Jonathan Over Gov. Timipre Sylva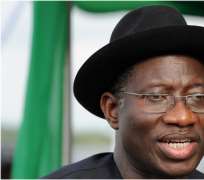 Former President Shehu Shagari and former Head of State, Yakubu Gowon, have advised President Goodluck Ebele Jonathan to act like a statesman and desist from his overbearing manipulation of the internal politics of the Peoples Democratic Party (PDP)
in his home state.
According to a source close to Shagari, the two national leaders in separate phone calls, warned   the  President Jonathan that his  direct  involvement in the crisis engulfing the party in the state belittle his stature as leader of the nation.
Most importantly, the two foremost national leaders, were miffed by the conscription of security agencies for an invasion of the state at a time, the Jonathan government appears lost about how to handle pressing security challenges in parts of the country.
The phone calls it was gathered, was an idea mooted by Shagari who initially reached out to Gowon and asked him to call  Jonathan to advise him to steer clear of the murky politics in his home state. Gowon it was learnt reminded Shagari that he was a military Head of State and that the message will carry more weight if coming from a democratically elected President.
It was however learnt that the two leaders later agreed to call Jonathan separately believing that the strategy will exert more pressure on the President. They both called the President on Thursday night.
The president was said to have assured them that he had no role in the crisis that it is purely a party affair.
The pressure by the two national leaders followed similar appeals by national leaders like Alhaji Balarabe Musa, Laiwa Kaita, Alhaji Abdulkareem Daiyabu and  Civil rights activist, Mallam Sheu Sani following the controversial  disqualification of incumbent Governor, Timipre Sylva from the PDP Gubernatorial primaries.
Kaita, a member of the PDP Board of Trustees said the decision to stop Sylva from pursuing his ambition for a second term was unfortunate and an infringement of his fundamental right.
Balarabe Musa, who is the Chairman of the Conference of Nigerian Political Parties (CNPP), also described President Jonathan's role in the crisis 'as bad politics, warning the President to learn from the mistakes of the past.
'According to media reports, the President is directly responsible for the situation because he has a problem with the governor. But we know that other incumbents tried this before, with serious consequences on them. It is unfortunate that Jonathan cannot learn from that mistake.'
'Secondly, he is the President; Bayelsa is his home state. It is very wrong of him to have done that. As far as the governor is concerned, as long as he has gone this far, he should not give up,' Musa said.
Daiyabu, the President of Movement of Justice in Nigeria said: 'It is an embarrassment to the president to be associated with such trivialities.'