NO TEARS FOR EZEOBA, THE RABBLE ROUSER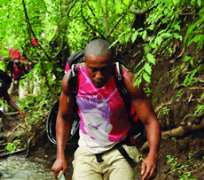 Eze on the way out of the jungle
He is a rabble-rouser. No wonder, he became the fourth contestant to be evicted from Batch C of the Gulder Ultimate Search. Ezeoba Okoroafor, 28, entered the Ososo jungle, venue of the reality show oozing confidence.
Though, his stay lasted just four days; that was enough time for him to get on the nerves of almost all other contenders.
From his caustic remarks, cruel jokes and unpopular stance on issues, the Imo State-born contestant seemed to revel in the title of 'Public Enemy Number One'. Interestingly, his stint in the jungle started with him assuming the role of leader of batch C. He was at the forefront for the search for the designated spot where they were required to build their camp.
Upon locating the site, Eze's prominence seemed to fade away. The others preferred to follow the lead of Sunday Gyang, and rightly so, too. Never one to shy away from responsibility, Sunday proved himself as a dependable leader of men and also a team player. The reversal of roles did not seem to go down well with Eze as he literarily lost interest, allowing others to toil for the shelter. And when he did join in the work, it was too little, too late as the construction was all but completed.
But his nonchalant attitude paled in comparison with the nasty verbal missiles he unleashed during his time in the jungle. Throughout his stay, Eze enjoyed making caustic remarks at the others especially Ulunma Ekwuru, who never failed to hit back at him.
But Eze's most caustic remark was reserved for Chimaobi Udodi, the first to be evicted from the batch.
In the solemn ambience of the Place of The Talking Drum, Chimaobi's eviction was announced to the group. It did not exactly come as a surprise as she was the first to drop out of the first task that took place earlier that afternoon. Her exit was a bitter pill for the group to swallow giving her tireless efforts at constructing the shelter and the bench. Eze chose that moment to unleash yet another volley from his arsenal.
Just as Chimaobi was untying her bandana to return to Darey, Eze said: 'Do you want me to help you so that you can leave quickly?'
Indeed, it was an ill-timed statement from Eze giving the painful exit of Chimaobi. Stunned, her reply to him was: 'Do you hate me that much?'
And after he was refused a parting hug from Chimaobi, Eze continued taunting her: 'Do you want me to help you pack your belonging so that you can leave quickly?' he said. The others watched the exchange with a mixture of disgust and sadness. Disgust at Eze's lack of tact, and sadness at Chimaobi's exit. Led by Ulunma, the others rebuked Eze over his statement to Chimaobi back in camp. But they could as well have been talking to the wind. For Eze, their reaction was borne out of their fear for him. 'I have always said that I am the contender to beat in this competition. That is why the rest of them hate me. They know that they don't stand a chance against me,' he stated.
According to Eze, the camp would not even exist without him. 'They keep depending on me for everything. They depended on me to construct the shelter and also the bench. But I don't care because I know that I am going to be among the three to make it through,' he boasted.
Whether Eze's opinion was right or wrong is open to debate but what is certain is that he didn't mind being regarded as the black sheep of the group by his peers. In fact, he enjoyed it.
Inevitably, his attitude caused the wedge between him and all the other contenders except Olarewaju Alawode. No wonder, Ulunma, Ekwuru, while castigating Eze for his statements following Chimaobi's eviction, openly said that all the other contenders would gladly vote Eze out if they were given the choice to do so. Fejiro Ejogbamu was also unequivocal when he said he didn't like Eze's attitude. The same sentiment was expressed by Efe.
But as annoying as Eze was to the other contenders, he shared a close relationship with Olarewaju Alawode, who he took as his protégé and friend. Olarewaju, on his part, literarily worshipped the ground Eze walked on. For him, Eze can do no wrong. How the seed of friendship was planted between both individuals is unclear but it is indeed a classical example of opposite poles attracting. The brash and garrulous Eze, was always content to play the role of mentor for the taciturn Olarewaju, who did not seem capable of hurting a fly. Both contenders seemed to enjoy each other's company despite the hale of opposition against Eze. Maybe it had to do with the difference in their ages.
Still, the anti-Eze camp had the last laugh after Eze was evicted. The eviction did not come without controversy. During the third task, the contenders were required to memorize some symbols arranged in a particular order and then replicate the arrangement using symbols provided for them. To get to the symbols they had to go past several hurdles placed in their path. While the others completed the task Lillian Ebhonhon and Eze were both left. Lillian was able to complete the task before Eze but she erroneously ended up arranging Eze's set of symbol instead of hers. For that moment, Eze seemed to have being saved by Lilian's blunder. But Eze's fate was still uncertain as nobody was sure whether he would be evicted or not. It was more than enough opportunity for the anti-Eze camp to finally get their own back at him. Led by Sunday Gyang and Lilian Ekwuru, the pair celebrated the impending eviction of Eze. Not even the attempts of Fejiro Ejogbbamu to put a stop to the taunts yielded any fruit.
Just as it was predicted, Eze was evicted that very night at the Place of The Talking Drums along with Lilian. It was payback time as Ulunma taunted him as he departed. But trust Eze. Not one to leave without drama, he left with a parting shot. Though, directed at his friend Olarewaju, it was surely a message intended for the others.
'Expect me like you expect Jesus, I will surely come back,' he said.
He could be right. Eze stands a chance of making it to the final ten in the Contest of Champions, if he is voted back from among other eliminated contenders from the batch. But he would have to fend off Geraldine Obi and Theodora Egbo, who were both voted back into the game from Batches A and B respectively.