JONATHAN COMMENDS BANK REFORMS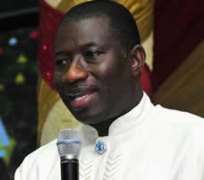 President Goodluck Jonathan yesterday commended the various bank reforms undertaken by the Central Bank of Nigeria (CBN) within the last few years, insisting that the nation has been better of for it.
This came as the CBN Governor, Malam Sanusi Lamido Sanusi, threw more light on the recent initiative on less cash in transaction policy billed to take off next June and announced some 'tailored interventions' to promote the real sector of the economy.
Speaking through Finance Minister, Dr. Ngozi Okonjo-Iweala, at the commissioning of the new branch building of the apex bank in Port Harcourt, the president noted: 'The tremendous confidence that has been restored in the banking sector' via the reforms is commendable.
He was also happy with other efforts of the CBN, including its shared services initiative in the banking sector aimed at reducing banks' overheads, thus reducing lending cost and other banking charges.
The president said the policies have become imperative as the banking industry gears up to enhance lending to the real sectors of the economy to power rapid growth. He observed that the roles played by the CBN in the economy are 'totally in consonance with and supportive' of the policies of his administration.
Earlier, Sanusi explained that the recent initiative on less cash in transaction policy scheduled to start from June 2012, was aimed at addressing the currency management challenges in the country as well as enhancing the national payments system.
'As we all know, the Nigerian economy is heavily cash-oriented in the transaction of goods and services. The huge cash transaction increases the operational costs of the banking sector, which is passed down to the customers in the form of high service charges and high lending rates.'
The CBN governor announced that a consumer protection division has been established at the apex bank to address users' complaints concerning banking and payment channels.
Also, the bank would adopt biometric authentication for POS and ATMs to address customers' safety issues and avoid losses through compromise of PIN numbers.
Sanusi also mentioned four tailored interventions to support and promote the real sector of the economy.
These include N200 billion re-financing/restructuring of SME/Manufacturing Fund, N300billion for long term funding of power and aviation and N200 billion Commercial Agricultural Credit Scheme (CACSS).
Also put in place is a N200 billion Small and Medium Enterprises (SME) Credit Guarantee Schemes.
He gave assurance that efforts to strengthen the supervisory unit of the CBN have been intensified, 'to ensure that timely regulatory actions are taken by the standby teams of target examiners.'