Obama Opens Door To New U.S. Ties With Myanmar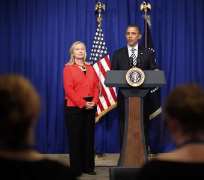 President Barack Obama said on Friday he saw "flickers of progress" in Myanmar, dispatching Secretary of State Hillary Clinton for a historic visit that could draw the country out of half a century of global isolation.
Obama, in Indonesia for a summit of Asia-Pacific leaders, said he had spoken for the first time with Myanmar democracy leader Aung San Suu Kyi who told him she supported more U.S. engagement with the country also known as Burma.
In another indication of change in Myanmar, Suu Kyi's party, the National League for Democracy, re-registered on Friday to contest a series of by-elections for vacant parliamentary seats. This follows amendments to electoral laws and brings Suu Kyi a step closer to returning to politics.
Obama said the release of political prisoners, relaxing of media restrictions and signs of legislative change in recent weeks were "the most important steps toward reform in Burma that we've seen in years."
Clinton's two-day visit from December 1 would be the first by a U.S. Secretary of State since a 1962 military coup ushered in 50 years of unbroken military rule that ended in March when a nominally civilian parliament was established.
Since then, the new government has called for peace with ethnic minority groups, displayed some tolerance of criticism, suspended an unpopular Chinese-funded dam project, freed about 230 political prisoners and reached out to Suu Kyi, a Nobel Peace Prize laureate freed last year from 15 years of detention.
"We want to seize what could be a historic opportunity for progress and make it clear that if Burma continues to travel down the road of democratic reform, it can forge a new relationship with the United States of America," Obama said.
However, he cited stubborn U.S. concerns over Myanmar's stance with North Korea, human rights, treatment of ethnic minorities and the continued detention of political prisoners. U.S. officials have said these issues must be addressed before Washington can consider ending economic sanctions.
"If Burma fails to move down the path of reform, it will continue to face sanctions and isolation. But if it seizes this moment, then reconciliation can prevail," Obama said.
HUMAN RIGHTS
Many Western governments have expressed caution that more must be done for Myanmar's reforms to be considered credible. As early as October 17, for instance, Derek Mitchell, special U.S. envoy for Myanmar, said there were "credible reports" of continuing human rights abuses against women and children.
Clinton is scheduled to meet Suu Kyi and visit Yangon and the capital Naypyitaw. She will "explore whether the United States can empower a positive transition in Burma and begin a new chapter between our countries," Obama said.
Myanmar welcomed the visit.
"It's a very good sign," Ko Ko Hlaing, chief political adviser to Myanmar's president, told Reuters. "I think it is a significant turn in U.S. policy toward Myanmar ... people in Myanmar will welcome, cheer Hillary Clinton because for a time in history, they have never seen a secretary of state."
With sanctions blocking Western investments, China has emerged as Myanmar's biggest ally, investing in infrastructure, hydropower dams and twin oil-and-gas pipelines to help feed southern China's growing energy needs.
Bilateral trade rose more than half last year to $4.4 billion, and China's investment in Myanmar reached $12.3 billion in 2010, according to Chinese figures, with a strong focus on natural resources and energy.
But the relationship has been strained, with a long history of resentment of China among the Burmese population and fierce public opposition to a Chinese-built dam at Myitsone that prompted Myanmar President Thein Sein to shelve the project last month, a move that stunned Beijing.
A U.S. official said the Obama administration "fully expects" China to welcome U.S. engagement with Myanmar and the United States would consult China closely on its engagement with the Southeast Asian country.
China is wary of greater U.S. influence in the region, especially in countries on its border, as Myanmar is, but the U.S. decision to engage with Myanmar should not be seen as an attempt to contain China, the U.S. official said, adding that a stable Myanmar was in China's interests.
"It's about Burma, not about China," the official said.
When Obama took office in 2009, he made reaching out to American adversaries a signature part of his foreign policy approach. That included an effort early to engage with Iran.
But the administration took a cautious approach on Myanmar because of its human rights record. Obama requested a policy review on Myanmar, paving the way for the recent diplomacy.
U.S. officials said that Obama spoke to Suu Kyi during his flight on Thursday from Australia to Bali.
The 20-minute call was the first time they had talked and he told her he had long admired her democratic struggle. They described it as a meaningful but friendly conversation in which Suu Kyi also asked about Obama's family dog.
He asked for her ideas on how to approach her country.
"She encouraged the president to make clear to Burma's leaders that the U.S. will be willing to work with them if they are in fact demonstrating that they are willing to work with the world and her," one U.S. official said.
Obama is not scheduled to have a bilateral meeting with Thein Sein but will see him in Bali at a East Asia Summit.
Southeast Asian nations endorsed Myanmar on Thursday for the chairmanship of its regional grouping in 2014, gambling that the
country can stick to reforms begun this year. The United States respected that decision, a U.S. official said.
REUTERS