VIVIENNE OGBORU'S D NEST FAMILY MARKS WORLD PEACE DAY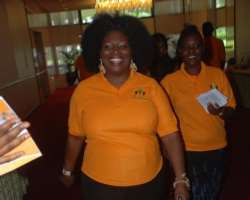 While a lot of people were busy celebrating the last Id-El-Fitri's celebration, D Nest Family Foundation led by the philanthropist of the highest order, Mrs. Vivienne Ogboru, joined with the rest of the world to celebrate the World Peace Day but with destitute as she dolled out gifts, cash and material items to them in commemoration of the special day.
The formidable team of the D Nest Family came out in droves today, Tuesday 22nd September, 2009 to rejoice with the less privileged in the society who don't have the will or ability to appreciate what the globally acknowledged Peace Day is all about. Some of the top official of the non-governmental non profit making organization, Raymond Taiya explains that "generally D Nest family Foundation is about the family and there is no how you want to talk about the family and we wont mention the less privileged in the society because they form a part of the family. So caring for this people in some ways will make them feel among in the society and this, of course, would have fulfilled the purpose of setting today as the World's Peace Day.
While the organization was busy recording and interviewing these insolvents in the society, William Dollar, Secretary of the organization viewed the day as a day for the society to be reminded that peace is vitality and that it's a platform every society must use to operate even though there are other means to use but peace should be the target.
In a brief chat with the directress of the foundation whose responsibility is to re-mould the endearing family value back to its original state, Vivienne Turner Ogboru,"our plea is we love one another because where there is love there is sacrifice and where sacrifice abounds we wont hurt each other so we join the rest of the world today to call for a peace-loving society. Let's be our brother's keeper irrespective of race, colour, tribes, religion or background." She enthused
Meanwhile, D Nest Family Foundation is already making grand preparation to host a whole lots of people come Saturday, 17th of October, 2009 on the World Poverty Day. Notable dignitaries which include ambassadors and captain of industries have all shown their interest to be part of the event which will hold in Lagos.