Alaba traders slam musicians: You're original pirates!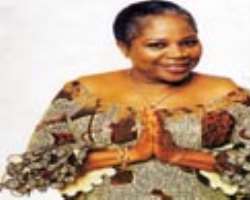 •Say Onyeka Onwenu, Tony Okoroji are expired artistes
The marketers at Alaba International Market last Thursday took the musicians to the cleaners, calling them the authentic pirates of musical and video works in the country.
The marketers, led by their president, Chief Emeka Ohamadike had earlier in the morning shut down the market and marched round the premises while carrying placards and singing protest songs against piracy and Nigerian musicians.
On July 15, 2009, the musicians at a world press conference in Lagos had launched a vitriolic attack against the Alaba marketers, accusing them of pirating their works and urging the Federal Government to shut down the market.
Few weeks later, the musicians under the umbrella of Nigerian Music Industry Coalition went a step further when they embarked on an unprecedented anti-piracy campaign that included declaration of "no music day'", hunger strike and major rally at the National Theatre, Iganmu, Lagos.
Recently, the coalition presented a two- page letter to Governor Babatunde Fashola, of Lagos State, informing him of "an urgent need to address the debilitating effect of piracy in Lagos State especially the infamous situation in Alaba International Market which has gained the world wide notoriety of being an international hotbed of piracy".
But in a quick response last week, the Alaba marketers denied the accusation of piracy and ended up accusing the musicians of being the "real troublers" of the entertainment industry.
Addressing a press conference tagged "No to Piracy" at the market secretariat later after the rally, Chief Ohamadike said, "it is very impossible for a thief to steal from himself. Because when you talk about names that are great in the entertainment industry today you will mention names like Obaino Music, Ahbu Ventures, Obat Pacific, Afrobest Music, Oceanic, T.Joe, Blue Magic, Jaccuzi, Iyke de Don, etc. Each of these people has their sole rights from the artistes in both music and movie and they market legally."
The president stated that Alaba International market cannot be shut down because "the market is 99.5 per cent known for electronics, electrical and industrial parts, and not for music and home video only."
He said further: "We want to debunk the talk that Alaba market is the capital of pirated, counterfeited and sub-standard products. Precisely on 29th of July 2009, we signed here an MOU with the Federal Ministry of Trade and Commerce, the Standards Organisation of Nigeria, the Consumer Protection Council and the National Environmental Protection Agency, NIRA as well as the Nigeria Police Force. I use this medium to tell our numerous costumers that Alaba market is safe for your business; we are assuring you that whenever any product is bought here in Alaba and if it is found wanting, please come back to the association, you have the right to derive utility from any product you bought. Alaba is saying "no" to all the negative vices associated with the market including piracy.
"Big Artistes such as 2face Idibia, 9ice, Timaya, Psquare, Ruggedman, M.I, Face, Olu Maintain, Idris Abdukareem, 2Short, Terry G.to mention but few, all market their works in Alaba market. Also, top comedy stars market their works here. So, who is fooling who? Is it Onyeka Onwenu and Tony Okoroji who are expired artistes? Okoroji sang last in 1983. In fact, the musicians are the real pirates of their works because they come everyday begging us to include their songs in illegal compilation CDs.
"Truly I am not saying that Alaba is totally free from piracy, what we are saying is that even if it is only one per cent of piracy that exists in Alaba, in unison we are saying "no" to that one per cent.
"The government of Alaba International Market including myself and other executive chairmen like Chief Wilson Ozoemena; Chairman, Fancy and Furniture Dealers Association, Chief Ezeani Celestine; Vice Chairman Electronic Sections And Chief Ogonna Nkemdilim, Chairman, CD Dealers Association, all say "no" to piracy."