STAR ACTOR,AYO BADMUS ALMOST BEATEN TO DEATH BY POLITICAL THUGS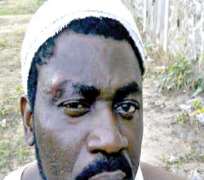 To say that indiscipline is a disease that has eaten deep into our polity is like stating the obvious.
The syndrome has been affecting the nation to the extent that people commit atrocities and get away with them due to one influence or the other.
Hence,it will be no news to say that most of the laws stipulated by the constitution of this nation are mere write-ups on paper,because the injuctions are hardly adhered to by the citizenry.
Star actor, Ayo Badmus claims he was assaulted on Eid-El-Kabir day by a group of hoodlums suspected to be political thugs at Oshodi area of Lagos.
The group was said to be working for the chairman of Oshodi Local Government Area of Lagos State.
According to the revered entertainer"It's true that I was beaten and almost killed by the thugs guarding the Chairman of Oshodi L.G.A. My wife, my brother and myself went to pay a courtesy to my boss, Tunde Kelani on the Salah day.
When we got there, I went round to greet people and when I got to where the Oshodi L.G.A Chairman sat, I wanted to shake him when his brother said I ought to have prostrated. I didn't reply him even when he started insulting me, saying actors are stupid and useless.
I made to leave when suddenly, I saw a group of thugs, numbering up to twenty pounced on me and started beating me up. They broke bottles on my head, kicked me and almost killed me if not for my wife, brother and other people who came to my rescue.
I've done a lot for the Lagos State Government even without being paid. Why should I then be treated in such a manner like a criminal? What the Chairman of Oshodi Local Government and his brother did was wrong. They are public servants and should be polite. I never met them before in my life. Neither did I involve myself in any kind of politics. That day was the first time, I set my eyes on them. They probably felt intimidated by my presence and the way people around hailed me"