•Sodimu, Wright... faces of Remdel's Ofinga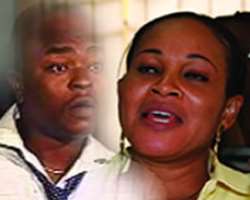 It was a dream come true for Remdel and a mission accomplished by all categories of filmmakers. The 2009 edition of the festival of indigenous African films (Behind the Screen) held in Akure, Ondo state capital recently.
The festival expectedly proffered new ways and methods for motion picture practitioners to realize their dreams. It also sought adequate training for professionals, aside canvassing a new breed of filmmakers whose emphasis would be on value rather than monetary gains.
The festival opened on a celebrative note at the Ondo State Cultural centre, Adegbemile, with an array of dignitaries comprising artistes, scholars, veteran movie practitioners and a team of government officials. It was a gathering of top professionals drawn from public and private sectors, many of who gathered to watch films, view works and purchase CDs, DVDs and cassettes.
A welcome address by festival director, Pastor (Mrs) Biodun Ibitola described the third edition of the festival as another effort towards repositioning the Nigerian motion picture. Ibitola harped on the theme of the festival, The Impact and Survival of Indigenous Languages in Films, noting that filmmakers have a role to play in ensuring survival of indigenous languages.
While regretting that colonial rule has eroded Nigeria's many languages, Ibitola raised hopes for the languages through films, saying "In order to guard against this avoidable disaster, there is need for a drastic change of attitude to the study and use of our indigenous languages in Africa, and Nigeria, being the undisputable big brother of the black race, must take a lead in this direction."
Ibitola who also listed ways through which film can help actualize the re-branding project initiated by government. She stressed the need for effective packaging of Nigerian indigenous languages in films to other parts of the globe, as well as the need for Nigerian films to be sub-titled professionally in English, French, Portuguese and other languages. The festival director also urged government to pay greater attention to the entertainment industry, which is capable of generating income and serving as useful tool in information dissemination.
While buttressing Ibitola, in his key note address, Professor Tunde Babawale, Director General of the Center for Black and African Arts and Civilization (CBAAC) called on filmmakers to increase production of films in indigenous languages. He also urged filmmakers to raise quality of such films in terms of themes, aside engaging the services of professional translators.
According to Babawale, government at all levels must give support to the production of films in indigenous languages, particularly those that promote morality and national values. He also canvassed support for the study of indigenous languages in schools, saying both the federal and state governments must make the study of indigenous languages compulsory at the primary and secondary levels of the educational system.
On how to promote the business aspect of film making, experts used the Karakata forum to list the strategies for sustaining value and raise revenue through motion picture. After a brainstorming session that was kicked started by Professor Mabel Evwiehoma of the University of Abuja, the festival again lived to its billing as a veritable platform to device new ways and methods of packaging and distributing indigenous films.
She traced the origin of film distribution to 1894 during the days of Holland Brothers in America, but observed that filmmakers in Africa should discover new ways of producing and distributing their works particularly in view of Internet and electronic cinema. Evwiehoma also urged filmmakers to give credits to original authors of their references, embark on aggressive marketing through direct distribution networks as well as consider signing meaningful contracts to avoid copyright infringement.
At the end of the session, which featured other experts as Dr Gbemisola Remi Adeoti (Moderator), Mrs Biodun Ibitola, Dan Jacobs, Phil Ebosen, Tunji Bamishigbin and Mr Emeka Mba, DG of the National Film and Video Censors Board (NFVCB), it was agreed that Nigeria needs a new brand of filmmakers. The latter, according to the panel of discussants must be able to pay attention to training, effective documentation, good networking, contractual agreements and above all, ensuring that value is not sacrificed for monetary gains.
Earlier in his office, Chief Adetola Festus Wewe, Ondo State Commissioner for Culture and Tourism expressed his willingness to collaborate with Remdel Optimum to boost film production in the state. While responding to Mr Emeka Mba's request for government's support for creative industries, Wewe commended organizers of the festival for promoting motion picture in the state. He also promised to join Remdel in training youths in the diverse areas of film making in order to create jobs and eradicate poverty in the state.
Shortly before the end of the festival, participants had opportunity to watch the premiere screening of Ofinga (Law is great), the latest movie in Remdel's stable. They also had a fruitful and challenging tour of the famous Idanre Hills in the outskirt of Akure. The long tour of over 600ft hill unveiled yet another tourism attraction whose cultural and artistic potentials are yet to be fully tapped by Nigerian filmmakers.